App of the Week: Ireland's Greatest One Liners (iPhone)
An Englishman, an Irishman and a Scotsman walked into a bar. The Irishman, sick and tired of taking in the brunt of previous jokes, decides to take out his iPhone and turn on Ireland's Greatest One Liners app. Now I doubt that this would save the Irishman from further embarrassment, the app brings about a very unique Irish sense of humour and wit.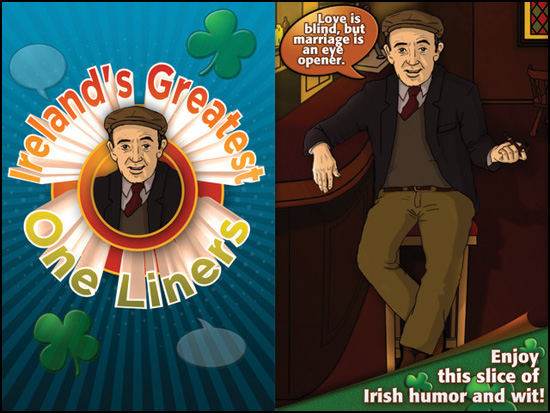 The updated version, produced by Ciaran Reilly, is out on the iTunes App Store today and is available for the iPhone and iPod touch. The 'Ireland's Greatest One Liners' app contains the most hilarious pearls of Irish wit that could only have been dreamt up in the mind of an Irishman. All the one-liners are delivered by Sean, a local Irish character from the west of Ireland who has all the best one-liners' from down the years.
Ireland's Greatest One Liners is a great app to share with friends in a bar, when making a toast at a party or a wedding, or even just to give oneself a quick laugh during the day.
'Over the years I've collected lots of very funny Irish one-liners and sayings from nights out with friends and relations from all over Ireland. I think this app is a great way to share them with the world and to give people a taste of the Irish sense of humor. I am delighted with the response we have gotten about 'Ireland's Greatest One Liners' and I hope that users get as much fun from this app as I had while putting it together' says Ciaran Reilly, developer of Ireland's Greatest One-liners.
An in-app purchase would boost the app's 48 one-liners to 72. Check out the app right over here: https://itunes.apple.com/us/app/irelands-greatest-one-liners/id458987076?mt=8
Powered by

Sidelines
Previous Post When A Cage of Monkeys Meet Tetris: Quadra (iPhone) Game Review