Knock Out The Bad Guys – Manny Pacquiao: Pound for Pound (iPhone) Review
Earlier this year I got to check out a boxing game that featured heavyweight champion David Haye. It was pretty interesting, more like a traditional boxing game combined with 2D cell-graphics and super moves. I figured it was only a matter of time before eight-division world champion Manny Pacquiao took the stage on iOS devices, and now it's here.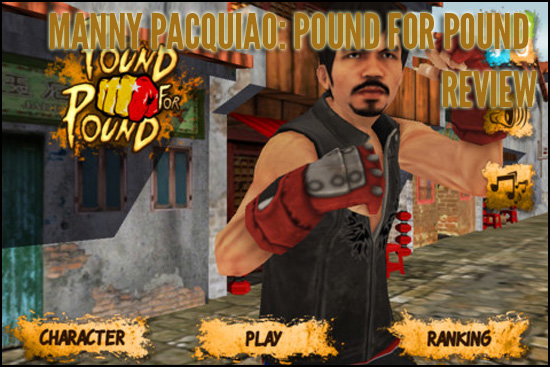 Much like David Haye's Knockout, Manny Pacquiao: Pound for Pound is a fighting game from the third person perspective, except in 3D and a whole slew of touch-based moves. The game puts Manny in the role of a hero out fighting villains in a quest for justice and rescuing a damsel in distress. Fights are done on a one on one basis against a single enemy AI opponent.
Players slide their fingers up, down, sideways on the screen to create moves to take down the opponent. The funny thing about Pound for Pound is seeing Manny go all capoeira on opponents, considering that he is a boxer. The more you fight, the more experience Manny gains and this is used to upgrade Manny's ability to his stamina, vitality and strength.
The combat is a little iffy at times, for sometimes the controls are not really responsive. Battles can be monotonous at times, and the mini bosses seem to have an ability to knock Manny out at will, making it very difficult to win those kind of fights while minions prove to be pushovers.
Inconsistencies aside, Many Pacquiao: Pound for Pound comes with Game Center achievements and leader board rankings for players to see how they fare against others. Nine Over Ten 9/10 rates Manny Pacquiao: Pound for Pound at a 3.5 out of 5. Check it out on the iTunes App Store: https://itunes.apple.com/us/app/manny-pacquiao-pound-for-pound/id474156877?mt=8
A review code was provided to Nine Over Ten 9/10 for the purpose of this review.
Powered by

Sidelines
Previous Post Make Your Pals Go Boom: Kick the Buddy (iPhone) Game Review
Next Post Nike We Run KL 10K 2011 Race Report