Konami Announces Frogger Free for iOS Devices
Here's a bit of retro gaming trivia. Did you know that Frogger is celebrating it's 30th anniversary this year. Yup, the game is THAT old and here's another bit of trivia for all you geeks out there: With all the talk about multi-core gaming, the original Frogger was one of the earliest games to make use of more than one CPU!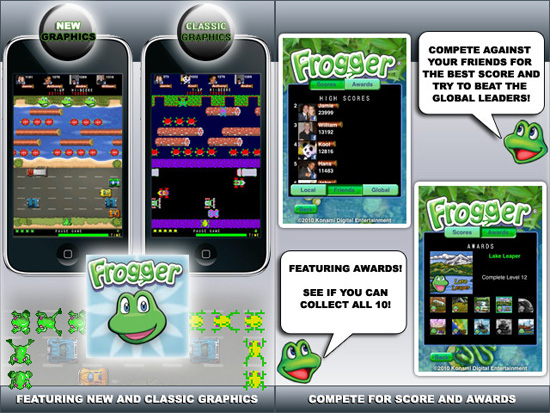 OK, enough of the trivia talk. In conjunction with the 30th anniversary of Frogger, Konami has today launched Frogger Free for iOS devices, allowing gamers to experience the full Frogger arcade game right on their iOS devices at zero cost! Check out the following press release for details and screenshots:
El Segundo, CA – Nov. 22, 2011 – Konami Digital Entertainment, Inc. today announced the launch of Frogger Free, a new app for iPad, iPhone and iPod touch, now available on the App Store.  In honor of Frogger's 30th anniversary, Frogger Free is the latest rendition of the classic series which captures the gameplay of the arcade original, while combining the fun of iOS devices with Facebook connectivity – all for fans to enjoy for free.
Featuring three new game modes including Turbo, NightTime and Inferno, gamers are reintroduced to cars, logs, turtles, alligators and other classic Frogger friends and foes. Players can participate in classic arcade-style gameplay with multiple control options including swipe, touch and tilt, and collect up to 10 achievements to become the ultimate Frogger player. With both new and classic graphic options, Frogger fans can also connect with fans through Facebook Connect, competing on Game Center leaderboards.
Frogger Free is available now for free on the App store for iPad, iPhone and the iPod Touch at https://itunes.apple.com/us/app/frogger-free/id478895764?mt=8.  For more information, please visit www.konami.com/frogger.
Powered by

Sidelines
Previous Post RTS Like No Other – Anthill: Tactical Trail Defense (iPhone) Review
Next Post Check Out Afterfall: InSanity's Latest Trailer, Gold Build is OnLive!