FUNimation Entertainment Launches FULLMETAL BATTLE for iPhone and iPod Touch
The last time I wrote about Fullmetal Battle, it was back in May, and now, the highly anticipated RPG Fighting Game based on the popular anime series, Fullmetal Alchemist: Brotherhood is now available for free on the iPhone and iPod touch. Developed by Good Game Productions, the game will see iPad, Android and Facebook versions coming soon in the near future. Check out the press release below for details:
Flower Mound, TEXAS – November 21, 2011 – FUNimation Entertainment announced today the launch of the highly anticipated iPhone game based on the acclaimed anime series "Fullmetal Alchemist: Brotherhood."  Developed by Good Game Productions, Fullmetal Battle is a turn-based Online Collectable Card Game with an immediately recognizable RPG style of combat and is available now for the iPhone and iPod Touch and will be followed shortly by the iPad.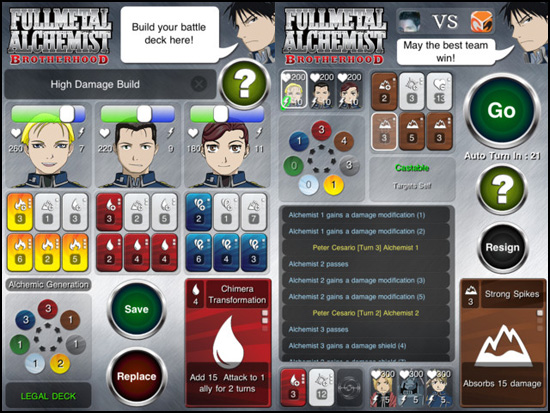 The game will also soon launch for Browsers on Facebook and Android. The iPhone and iPod Touch version is the first to launch and can be downloaded from iTunes for free at: https://itunes.apple.com/us/app/fma-battle/id466307748
Fullmetal Battle is a free to play turn-based Collectable Card Game that lets players design their own state licensed alchemist decks from a variety of abilities and effects inspired by the "Fullmetal Alchemist: Brotherhood" series and proceed into battle against other online players.
Immersed in a fictional universe styled after the European Industrial Revolution, players can also challenge popular Full Metal Alchemist:  Brotherhood characters including fan-favorites Alphonse and Edward Elric while receiving helpful tips from Roy Mustang!
Fullmetal Battle is a title that blends elements of the standard Online Collectable Card Game and freemium aspects of a free-to-play MMO.  Each card the player owns can gain experience, eventually gaining levels and new abilities.  Players are encouraged to purchase additional packs of playing cards and eventually trade them with other players.
"Fullmetal Alchemist" is one of our top hits and therefore is a great candidate for brand expansion.  We are proud to partner with Good Game Productions so that we may include the "Fullmetal Battle" Mobile App into our catalog, "said Gen Fukunaga CEO of FUNimation Entertainment.
The player's team of state alchemists band together in three vs. three combat, with unique access to special potions and single-use items, players have the opportunity to upgrade their core Alchemy transmutation circles and actions that are central to the game. With complete integration to Facebook, players have the ability to fight their online friends and eventually form teams of state based Alchemists!
Powered by

Sidelines
Previous Post First Biometric Casual Game "Gua-Le-Ni, or: The Horrendous Parade" Set for iPad Release