iOS Titles Jetpack Joyride and Infinity Blade Get Into Spike Video Game Awards
It's high time something like this happened; not one but two iOS games have been nominated in the Best Handheld/Mobile Game category for the Spike Video Game Awards (VGAs) 2011. The two games are Jetpack Joyride (Halfbrick) and Infinity Blade (Epic Games) and they find themselves going up against Super Mario 3D Land (Nintendo) and Ghost Trick: Phantom Detective (Capcom). Check out the press release from Halfbrick for more details: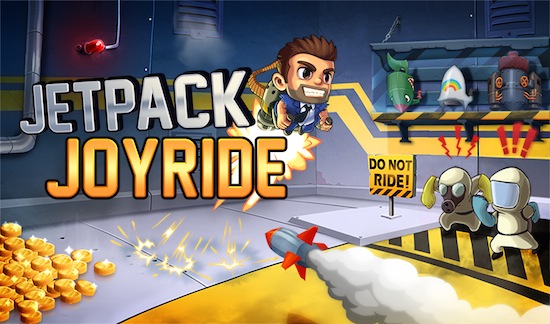 BRISBANE, Australia – November 18, 2011 – Award-winning Australian developer Halfbrick's hit mobile game Jetpack Joyride has been selected by the Spike Video Game Awards (VGAs) as a nominee for the Best Handheld/Mobile Game of 2011. The game is competing against major game releases from publishing and development titans Nintendo, Capcom and Epic Games.
"We're incredibly honored to be nominated alongside these high profile games that we — as both developers and players — really enjoy," said Phil Larsen, chief marketing officer at Halfbrick. "Our nomination is a testament to how Halfbrick has continued its standard of quality since the success of Fruit Ninja, and we are ecstatic that our belief in Jetpack Joyride as a top-tier mobile game has been validated by both fans and industry peers!"
Since its September 1, 2011 release, Jetpack Joyride has been downloaded by more than 800,000 players, and was greeted with near universal praise from the gaming press and community, earning a 91% aggregated score on Metacritic — higher than any other nominated title. Jetpack Joyride is nominated in the combined mobile and handheld games category along with Super Mario 3D Land by Nintendo, Ghost Trick: Phantom Detective by Capcom and Infinity Blade by Epic Games/Chair Entertainment.
The Spike VGAs air live on December 10 on Spike TV, MTV2 and Spike.com. The VGAs were selected by the VGA Advisory Council, composed of some of the most respected video game journalists from media outlets including USA Today, Entertainment Weekly, Game Informer Magazine, Kotaku, Joystiq, GameSpot, IGN and WIRED.
Jetpack Joyride follows Barry on his latest adventure, discovering a "secret" evil laboratory filled with jetpacks and mysterious obstacles. He commandeers the fun-fueled technology to attempt his escape atop a shower of bullets, rainbows, bubbles and more. Jetpack Joyride is available worldwide for iOS devices on the App Store as a universal download, optimized for both iPhone® and iPad® for $0.99 (USD).
Powered by

Sidelines
Previous Post Robot Entertainment Set To Debut iOS Title: Hero Academy
Next Post First Biometric Casual Game "Gua-Le-Ni, or: The Horrendous Parade" Set for iPad Release