Pull That Mustache! Monsieur Monsieur (iPhone) Game Review
Teabags and sausages. I'm sure there's a hidden message somewhere or some sort of innuendo involved when it comes to the stuff players are supposed to collect in Molecube's latest iOS game, Monsieur Monsieur. I can't put my finger on it, but no matter, the game is actually quite fun to play and is one of those games that makes great use of the touchscreen.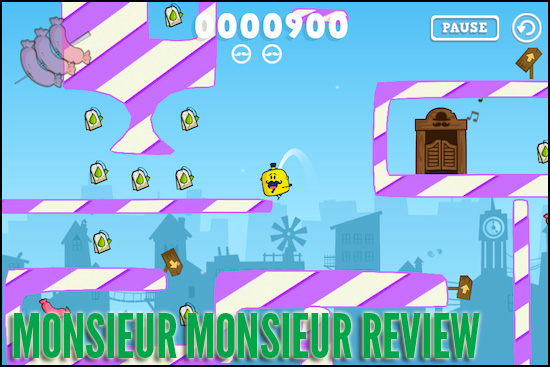 In this 2D platformer, players pull and aim the protagonist's mustache in order to launch him into a particular direction. It's actually quite funny and it had me chuckling to myself when I was reviewing the game over lunch (I know it's bad table etiquette, but what can I do, the restaurant did a Hell's Kitchen and my dish arrived way earlier than the rest).
Launching the yellow-coloured Monsieur Monsieur is one thing, players are supposed to use him to collect sausages and teabags (I really should interview the guys behind this game about the significance of these things) which translates to points. Your success in a level is measured using stars and determined by several factors, namely the number of sausages and teabags collected, and the number of times you pull the poor chap's mustache.
The levels themselves are divided across three different stages, and Stages 2 and 3 require a number of stars to unlock; that's reason enough to actually revisit levels to better your ratings. Another reason would be the game comes with Game Center leaderboards and achievements, so if you have a competitive streak, this game has something for you as well.
Nine Over Ten 9/10 rates Monsieur Monsieur at a 4.5 out of 5 for being a pretty cool platformer with back to basics touch screen controls. The game is available on the iTunes App Store for just USD 0.99. Check it out over here: https://itunes.apple.com/us/app/monsieur-monsieur/id439896501?ls=1&mt=8.
A review code was provided to Nine Over Ten 9/10 by Molecube for the purpose of this review.
Powered by

Sidelines
Previous Post Arcade Racer Ignite Demo Released on Steam
Next Post Red Fly Studio Set To Debut Amazing Looking Platformer – Inertia: Escape Velocity – This December!