Zen Stones HD Goes Free For Mac, USD 0.99 For iPad
The developers at Mac Games and More have announced Zen Stones HD, a new and completely reprogrammed release of their logic puzzle game for Apple computers and iPad. Zen Stones HD blends match three elements with strategic placement of smooth stones. Zen Stones HD is $9.99 at the App Store, however, players can obtain it for free at the macgamesandmore.com website. The iPad version of Zen Stones HD costs 99 cents.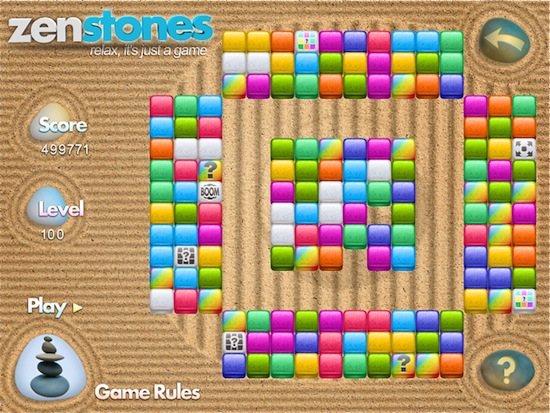 Why Zen? With the tagline "Relax, it's just a game," Zen Stones is meant to bring  a sense of calm while the brain is hard at work solving puzzle levels. The dichotomy of these actions creates an impulse to continue playing, and the game play is described by players as being tranquilly addictive.
The object of the game is simple: bring matching stones together to pass as many levels as possible by clearing the board. It takes a little strategy, a little logic and a little luck. Remove all the tiles on the center playing field by sending stones from the periphery. In order to accomplish this feat you must click on tiles on the border, they will move either across, up or down and when you match three or more like-color tiles, they will disappear. Clear the center playing field and you will move to the next level.
When there is not a match, that tile will stay on the board with the direction arrow on it showing players which way it will go if and when it is released. If you fill the board completely with tiles, the game is over. Oftentimes your game play will survive thanks to the many bonuses and power-ups.
The Mac OSX version of Zen Stones HD is free at the Mac Games and More website but $9.99 at the App Store. The iPad version is 99 cents. For a limited time the developers will be randomly distributing codes for free ipad versions for people who visit their Facebook Page located here: https://www.facebook.com/free.mac.games –  prospective winners are urged to leave a comment. The codes will be delivered to gamers' private message inboxes.
Powered by

Sidelines
Previous Post Warning, Addictive – Monster Warrior (iPhone) Game Review
Next Post The Lord of the Rings: War in the North – New Screenshots