Blow 'Em Away – Asteroids: Gunner (iPhone) Game Review
Phew…with asteroids like the ones you see in Atari's latest dual-stick (albeit virtual ones) shooter, Asteroids: Gunner for the iPhone, who needs space invaders? I just went through a crazy amount of shooting in that game and I love it! As a free-to-play title, Asteroids: Gunner has plenty going for it.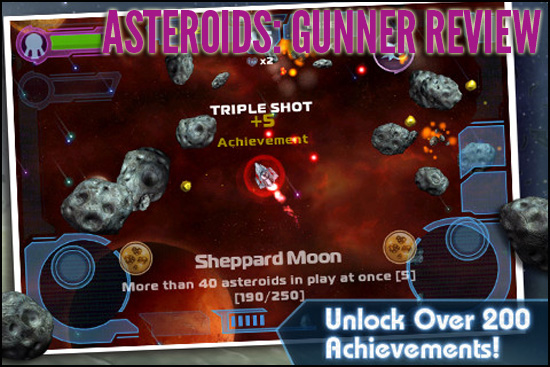 The game looks great and the controls perfect for the task of destroying tens or hundreds of asteroids that populate each level. The bigger ones would break up into smaller pieces upon contact and these would really challenge players to keep their accuracy rate up high. I like the fact that being a free-to-play title, there's plenty to actually chew on.
Atari has bundled in 50 levels in the first stage, all of which are unlocked based on how whether you survived the previous levels. There are two other stages which need to be unlocked by way of purchasing in-game currency. The ship is also upgradeable in many aspects, some requiring just the collectible space crystals dropped by asteroids whereas some would require the aforementioned in-game currency that needs to be purchased.
One thing that struck me while playing the game was the number of power-ups available, and some of these weapons you probably wish you had with you in the earlier incarnations of Asteroids. Ice beams, anti-gravity fields to the ever-satisfying claymore mine, almost all of these are a joy to play and worth going after when dropped by destroyed asteroids.
It's crazy casual fun with Asteroids: Gunner and it definitely does a good job in upping the action and suspense quotients for a dual-stick shooter. The game comes with BOTH Game Center and OpenFeint achievements, how cool is that! Nine Over Ten 9/10 rates Asteroids: Gunner at 4.5 out of 5. HIGHLY RECOMMENDED.
The game is available for free on the iTunes App Store at https://itunes.apple.com/us/app/id474572720.
Powered by

Sidelines
Previous Post Holy Cow Batman! Gotham City Impostors Set To Launch In January 2012
Next Post Battleship Mayhem – Battle Group (iPhone) Game Review