Learn To Play The Guitar with WildChords, Coming Soon For iPads
This is pretty cool. While most augmented-reality apps make use of real world visuals through a camera, WildChords, from Finnish devs Ovelin utilises the iPad's microphone with the sound of a real-life guitar strummed by the player in order for players to learn how to play a guitar AND at the same time lull a whole bunch of wild virtual animals. Check out more details for this free app with the press release below: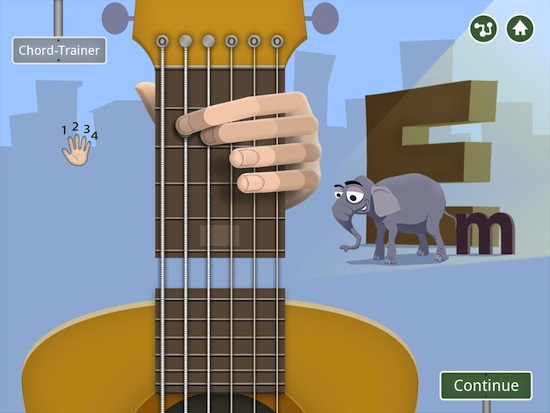 TAMPERE, FINLAND – November 10, 2011 – Ovelin, innovators of creative music education, today announced that WildChords will be hitting the App Store for iPad devices around the world on November 17, 2011. Initially free to download, WildChords includes 26 fun and motivating exercises that will have beginners and intermediates alike addicted to learning chords and scales, while additional lessons may be purchased in packages. Awarded the Ludus Project's "Best European Learning Game 2011," WildChords will also be coming to the iPhone in the near future.
Combining the addictive characteristics of iOS gaming with the iPad's integrated microphone, the educational game is played with a real guitar (acoustic or electric) at the pace and skill of each musician, instantly providing feedback on progression and skill. In WildChords, players step into the shoes of Giuseppe as they strum through lessons to hypnotize and collect escaped zoo animals, all in an effort to lure them out of Ovelin City.
Each set of lessons will have players venturing through Ovelin City in search of the animals and building their guitar skills, learning techniques through instructional lessons that teach proper chord and scale executions. WildChords also includes an integrated tuner to provide a one-stop solution for learning how to play the guitar, while Facebook and Twitter integration allows for sharing achievements and accomplishments with friends.
Main features:
No Additional Equipment Needed – WildChords utilizes the iPad's built-in microphone so all that's needed is a guitar to rock on. It even has a tuner with auto and manual string selection modes.
No Experience Needed – Increasingly difficult lessons are unlocked as your skills progress, so beginners can start fresh while intermediate guitarists can advance quickly to levels that suit their experience.
Practice Motivation – The entertaining game removes frustration from the learning process and makes practicing fun, complete with instant performance feedback.
Variety – Choose from 26 free lessons and songs, with additional content packages available for purchase.
Track Your Progress – Progress reports and milestones based on your actual recorded playing allow you to assess your skills and track your improvement.
Achievements – Earn rewards for overcoming specific challenges and share with your friends on Facebook.
For a peek at some of the lessons in WildChords, visit the official YouTube page at: www.youtube.com/ovelinbird
Powered by

Sidelines
Previous Post Terrorize Pictures with the App of the Week: Pulverizer (iPhone)
Next Post Holy Cow Batman! Gotham City Impostors Set To Launch In January 2012