iOS Hit Anthill: Tactical Trail Defense to Receive Mammoth Update Next Week
Since its release, Anthill: Tactical Trail Defense has garnered all-round praise and has become an App Store smash hit. A friend of mine was demo-ing the game to me on his iPad and I came off the experience suitably impressed. No wonder the game is sitting in the top 10 for Quality Index's October list which I received several days ago. Now fans can gear up for another exciting piece of news regarding the game, it's getting a mammoth update next week.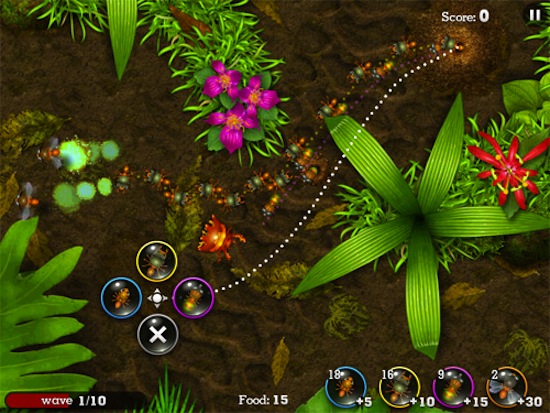 Check out the following press release for details:
Gothenburg, Sweden — November 9, 2011 — One of the best games on the App Store just got infinitely better. Since its original release last month, App Store smash, Anthill: Tactical Trail Defense has won an army of fans, boasting an average user rating of 4.5 out of 5 from its 2,700-plus reviews.  Its clever blend of attractive visuals, deceptively deep gameplay and unique setting has even seen it selected as 'Game of the Week' by Apple in Europe as well as the Quality Index included Anthill on their final Top 10 October list.
Well, the best is about to get a whole lot bigger as indie developer Image & Form introduces version 2.0  – a massive update to the original game which introduces the stunning new Infinity Mode. Anthill: Tactical Trail Defense is the perfect iOS strategy game. Featuring stunning, colourful visuals spread across multiple campaigns, the game sees players taking fingertip control of an army of ants, defending their anthills from waves of incoming predators.
With a variety of infantry at their disposal, players must juggle time and resources, draw pheromone patrol routes with their fingers across numerous diverse levels. Fallen hostiles can be gathered for food, allowing construction of even vaster six-legged armies. The Infinity Mode is the update's most notable new feature.
Rather than working through a set campaign, players are tasked to defend their anthill for as long as they can, as it is attacked by increasingly agile waves of enemies. While the increasing speed of each wave demands smart reactions and clever use of infantry, the piles of fallen enemies can be gathered ever more quickly to offer faster replenishment.
Other new features include new enemies, healing, the ability to share achievements across Facebook, usability fixes and tweaks."We really are offering endless replay value in what was already a great game," says Brjann Sigurgeirsson, CEO at Image & Form. "We've had a huge amount of fun beta testing the Infinity Mode here, and can't wait to see the global reception to this amazing feature."
Powered by

Sidelines
Previous Post It's Fun and It's Free: Stripe Jeweled (iPad) Review
Next Post Terrorize Pictures with the App of the Week: Pulverizer (iPhone)