PSN Mini Star Hammer Tactics Comes to iPad
Nowadays it's pretty normal to see not only cross-platform mobile games, but also console games crossing over to the iPad. It would make bad business not to do so given the user base on that particular device. Case in point would be Black Lab Games' turn-based space-combat sim, Star Hammer Tactics. Originally released for the Sony PS3 and the PSP as a Playstation Mini, the iPad version has been rebuilt from ground up for the device, and has a number of unique features including all new 3D battle visuals and a revamped campaign.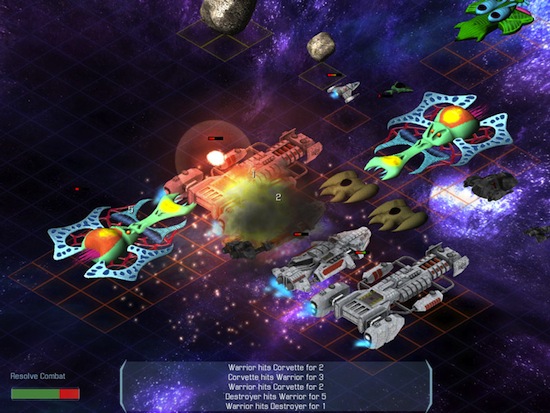 Price-wise, the iPad version is actually free-to-play with four campaign levels and a small skirmish mode made available for all who want to check out the game, which is set to be released on November 24th. The rest of the game is unlocked with a single in-app purchase of USD 2.99. Check out the rest of the details including the game's trailer in the following press release:
Perth, Australia, 8 November 2011 – Black Lab Games have confirmed that a completely revamped and reconstructed version of their acclaimed PlayStation(R) Network title Star Hammer Tactics will be released for the iPad on November 24, 2011. Star Hammer Tactics for iPad will be free to install with four campaign missions and small skirmish battles available to play, free of charge. The remaining 11 campaign missions and expanded skirmish mode options can be unlocked via a single in-app purchase of US$2.99.
Players take on the role of Lieutenant Fredan Dyce in a fight for survival against the mysterious alien Nautilid invaders. With control of a fleet of space ships, players must maneuver their forces to engage with the enemy and save their home planet, Novus. The game brings a different approach to the turn-based genre with battles that are all about maneuvering your forces to engage in close combat and prioritizing each ship's power between offense and defense. A limited supply of powerful, ranged missiles adds further strategic complexity to the mix.
"The touch controls and larger screen size make the iPad the perfect platform for Star Hammer Tactics" said Black Lab Game's Paul Turbett. "I'm particularly excited to be making the game free to play so that everyone can enter the Star Hammer universe and take the fleet for a spin."
Powered by

Sidelines
Previous Post Nicolas Games Announces Afterfall: InSanity Contest, Limited Edition Gadgets & Game Up For Grabs
Next Post It's Fun and It's Free: Stripe Jeweled (iPad) Review