It's Fun and It's Free: Stripe Jeweled (iPad) Review
In the previous I did, I was commented on how Angry Birds has led to a whole plethora of 2D, physics-based games on the App Store, and the amount of one-upmanship that has taken place has reached ridiculous levels. Another game that has been in the spotlight for even longer than Angry Birds has also led to a number of clones on the App Store, and that game is Bejeweled.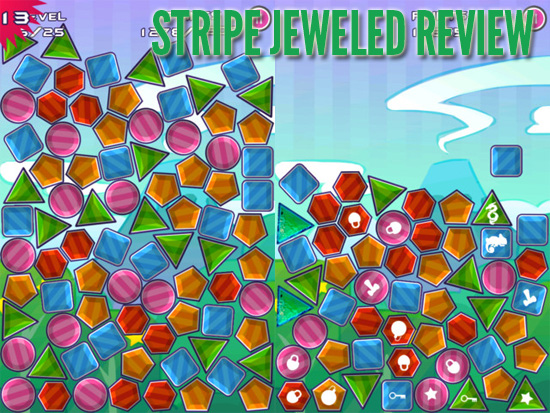 Oddly enough, the latest game to follow in the footsteps of Bejeweled not only borrows deliberately from that game, but also from another unlikely source, Angry Birds. Smackall's Stripe Jeweled combines both classic Bejeweled gameplay along with 2D-physics to create something that I must say, unique that stands out from the rest.
At first glance you'll notice that the game isn't like normal Bejeweled clones. The jewels fall from the top of the screen, not in a grid, but more like rain, and the jewels bounce off one another, sliding into position and taking advantage of any gap or space that presents itself. This gives a more organic feel to the gameplay aspect which still follows the classic match-3 or more of the same coloured jewels.
The game comes about with two game modes, one being Classic and Survival, and these two should be able to keep players preoccupied for quite sometime. The game is free to play, and with that being a major plus point, I would like to commend the sensible placement of the advertisements to the bottom of the screen. They are simply less distracting that way.
Stripe Jeweled's none-existing price tag, respectable number of levels and a Survival mode, along with an interesting presentation of how Bejeweled would have been with 2D-physics convinced us to award the game with no less than a 4.5 out of 5. HIGHLY RECOMMENDED.
The game is available on the iTunes App Store, check it out over at: https://itunes.apple.com/app/stripe-jeweled/id463991728?mt=8#
Powered by

Sidelines
Previous Post PSN Mini Star Hammer Tactics Comes to iPad
Next Post iOS Hit Anthill: Tactical Trail Defense to Receive Mammoth Update Next Week