It Might Drive You Nuts: Crazy Play (iPhone) Game Review
The level of one-upmanship that you can find among 2D, physics-based games on the iTunes App Store have reached heights that can be considered as ridiculous. Following in the footsteps of Angry Birds, one of the latest offerings you can find would be Trippin' Software's Crazy Play. Like the title implies, Crazy Play may potentially drive you up the wall if you are not one of the masochist casual gamers.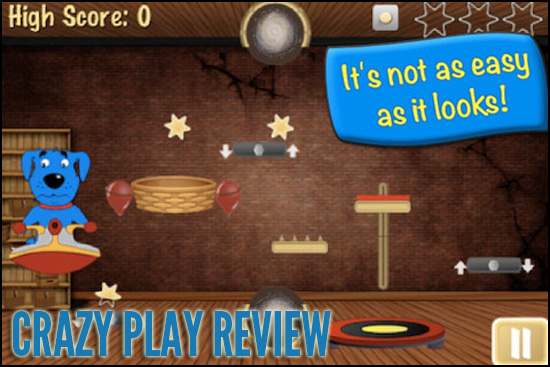 In the game, players are supposed to land gold (floating with the aid of a balloon) onto a target, using a host of items like bouncing platforms, teleporters, air cannons, baskets, etc, etc. It's a bit like one of the build-your-own-lab kind of games, but one of the challenge is shooting the balloon to drop the gold in the first place….it's actually easier said than done and is easily an early source of frustration.
The levels start off easy but it's really difficult to get a good rating (they are rated in the typical three-star fashion), with later levels can be viewed as either tough but interesting nuts to crack, or something like a milder version of Demon's Souls on the iPhone. Yup, it's not meant for everybody (including yours truly), but hey, if you are one with whips in the closet, here's a casual game right up your alley.
Nine Over Ten 9/10 rates Crazy Play at a 4 out of 5, simply because we understand that there is a certain appeal in this kind of overkill and Crazy Play does this with great aplomb. Crazy Play is available on the iTunes App Store for USD 0.99. Check it out over here: https://itunes.apple.com/us/app/crazy-play/id393114757. A review code was provided to Nine Over Ten 9/10 for the purpose of this review.
Powered by

Sidelines
Previous Post This Week in Comics: Guess Who's Back?
Next Post RedLynx and Chillingo Release DrawRace 2 Free Multiplayer for iOS