The Pacman Set To Make Fighting Debut Against Corruption on iOS Devices
Some might call him the greatest, some might call him one of the most prolific boxers in this generation, but call him whatever you want, Manny Pacquaio, otherwise known as the "Pacman" is to me, the best. He's set to be immortalised on iOS devices with the upcoming release of Manny Pacquiao: Pound for Pound: Volume 1. This new fighting game/political commentary features 3D graphics and is set to appeal for a broad audience. Check out the press release below for details: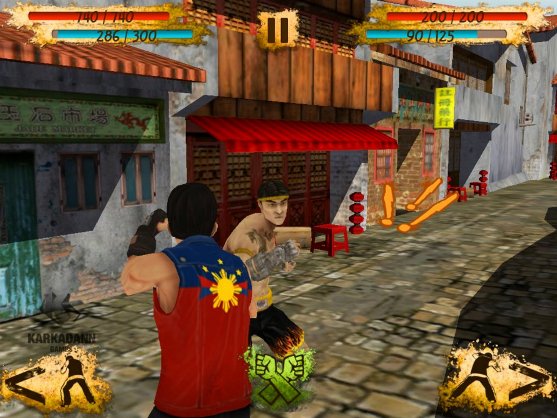 Los Angeles – November 2, 2011: Karkadann Games is proud to announce the submission of Manny Pacquiao: Pound for Pound: Volume 1, starring Filipino athlete and international superstar, Manny Pacquiao, to the Apple App Store. Targeting a release in November, Pound for Pound is a new action fighting game designed for a broad audience and will be released initially for iOS devices, and later on Android, for $2.99. A version of the game will also be released on Facebook at a later date, with more details to come.
Pound for Pound features 3D-rendered graphics, accessible game mechanics, and a deep storyline that sends Manny into the underground fighting pits in search of a kidnapped friend. Gamers will execute Manny's legendary combination of pummeling punches against enemies that stand in his way, in addition to an arsenal of martial arts fighting techniques and combos.
Simply swipe the screen in various directions to unleash and dodge attacks, and defeat an army of minions and bosses. Gain experience that will further your progress in the game, unlocking skill points and item upgrades that will improve Manny's fighting power and his chance of overcoming corruption.
Key features of Manny Pacquiao: Pound for Pound:
Fight as the world-famous Manny Pacquiao in this action-packed game for iOS, Android and Facebook.
Use touchscreen actions and gestures to unleash Manny's arsenal of lethal punches and kicks.
Fight against minions, mini-bosses, and bosses who increase in difficulty as the game progresses.
Guide Manny in his crusade for justice and experience artistically vivid environments with an immersive storyline.
Engage in a combat-oriented experience leveling Manny as you progress through challenging and intense battles.
Upgrade Manny's attributes, as you gain experience and increase in level, all while customizing him with items that improve fighting power and different clothes to make him look the way you want.
Integration with Game Center for unlockable achievements and score leaderboards.
Powered by

Sidelines
Previous Post Ultra Trail Marathon Organizers Put Steve Jobs on Running Bibs for Cancer Awareness
Next Post Help Out Wither Studios and Their First Official iOS Game Crowman & Wolfboy on Kickstarter