Gobble Up Fruit: Nom Nom Monkey (iPhone) Review
The cashier at the checkout counter asked me whether PowerGels actually taste nice. She was probably wondering why would I be buying a whole bunch of those. Truth be told, PowerGels are the most disgusting thing you can put in your mouth, but they actually do help out when you are in a long distance race.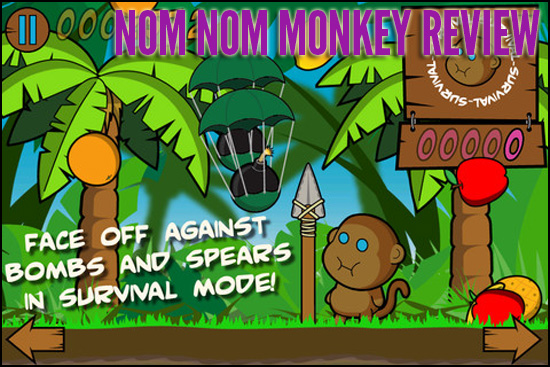 Anyways, if there's anything that I like eating, it would be fruits. And by that virtue, I would have a lot in common with Nom Nom the monkey, the star of Uninspired Productions (odd name for a game company) latest iOS game, titled Nom Nom Monkey. The game is basically an eat 'em all, with players moving Nom Nom from left to right eating all the fruits that are dropping down from the top of the screen.
The game is divided into two modes. The first one will have players guiding Nom Nom into an eating frenzy to eat as much fruit as possible within a minute. Different types of fruits carry different number of points, but surprisingly the game doesn't come with Game Center leaderboards to track players' scores on a global basis.
The second mode, called survival pits Nom Nom against obstacles such as spears coming out from the ground and bombs floating down from the top. Biting into a bomb will result in a game over but if the player manages to avoid them bombs, they should be able to continue playing for a very long time. Nom Nom Monkey is one cute casual game that's easy to pick up and play, but there's plenty of room for improvement, namely new game modes and Game Center.
Nine Over Ten 9/10 rates Nom Nom Monkey at a 3.5 out of 5 for being a commendable effort. Nom Nom Monkey is available on the iTunes App Store for USD 0.99. Check it out over here: https://itunes.apple.com/us/app/nom-nom-monkey/id471583184?mt=8. A review code was provided to Nine Over Ten 9/10 for the purpose of this review.
Powered by

Sidelines
Previous Post Oceanhouse Media Named Winner of TechAmerica High Tech Award
Next Post Digital Harmony Unleashes the First Wave of Minions in Dragons vs. Unicorns