Khan Makes His Debut: Ra.One | Genesis (iPhone) Game Review
I've got no beef with freemium games, but when it comes to games that make it absolutely necessary to purchase items in order to make any form of progress within the game, things get a little tricky. Technically that should downgrade the game from being "freemium" to a "shareware demo with purchase necessary". Bollywood megastar Shah Rukh Khan's Ra.One | Genesis for the iPhone can be described as one.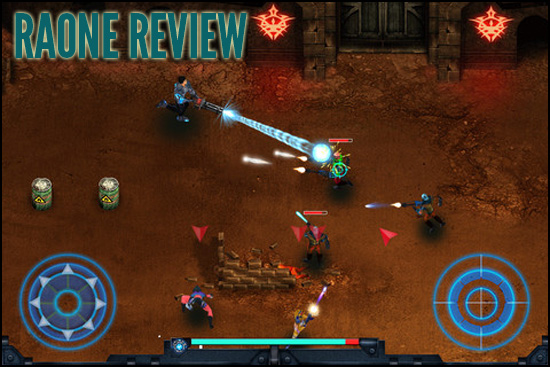 The game, available for free on the iTunes App Store, is like a 3D version of Age of Zombies. Players take control of G.One, a superhero running around levels shooting up waves of minions from Ra.One. Minions may drop orbs and collecting these orbs allow you to purchase upgrades such as health and weapons that are absolutely necessary in taking on these bunch of crazies, otherwise G.One's a goner..(LOL).
The problem with Ra.One | Genesis is that these upgrades are priced so high, the only way you can get them without going into a perpetual grind would be to do an in-app purchase for a lump sum of orbs. This actually sticks out like a sore point in an otherwise beautifully realised game with very nice graphics and a complete feature set with Game Center rounding up the list. Players who are familiar with Age of Zombies or other dual-stick shooters will be able to join in the action almost immediately.
Nine Over Ten 9/10 rates Ra.One | Genesis  a 4 out of 5 for being a solid action game AND a movie tie-in at the same time, but do be prepared to grind if you a stingy poker. The game is available on the iTunes App Store for free, check it out over here: https://itunes.apple.com/us/app/raone/id440488560?mt=8
Powered by

Sidelines
Previous Post Indie Game Developer Interview: Mike Su (Massive Joe Studios)