Don't Lose Your Head! Pocket God: Journey to Uranus Episode 6: Decapithon is Now Available!
With so many spectacular things going on in the Pocket God universe, it's hard not to lose one's head. Unfortunately for your pygmies though, they're about to experience that same feeling first hand—literally. Bolt Creative, a San Francisco-based developer of original mobile applications and games, today launched its latest massive update for Pocket God: Journey to Uranus, featuring an all new skull-cracking platform game that will pit pygmies against their worst nightmares.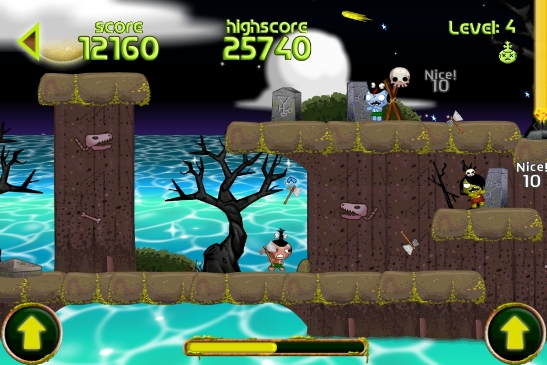 Episode 6: Decapithon pits one of your hapless pygmies against a horde of the undead and it's your job to help take them out. In this all new ghoulish side-scrolling platformer, players will take control of their pygmy, with axe in hand, and battle through eight levels of mayhem as they fend of zombies, witches, and bats, as well as going head-to-head in a boss battle Big Booga, a zombie based on one of the many popular characters in the Pocket God comic series.
Make no mistake, this isn't just an average app with an update of bug fixes and redesigns—since its inception, the world of Pocket God has been continually refreshed with new content. Pocket God remains one of the top apps on the App Store because of its consistent and quality updates, giving players tons of games for the price of one comically irreverent and pygmy–filled app.
The freshly revised Pocket God: Journey to Uranus app is available for $0.99 from the App Store on iPhone, iPod touch and iPad, or at https://itunes.apple.com/us/app/pocket-god-journey-to-uranus/id404405151?mt=8.
Powered by

Sidelines
Previous Post G5 Entertainment's Stand O'Food (iPhone) Goes Free For A Limited Time!
Next Post New Facebook Racing Game StreetRally Out To Challenge Car Town