Simply Overkill: Age of Monsters – Rock Paper Scissors (iPhone) Review
Sometimes I wonder whether is the adage "less is more" holds true for iOS apps. In the case of Massive Joe Studios' Age of Monsters – Rock Paper Scissors game for the iPhone, that age old phrase gets thrown out of the window (and then rolled over by a lorry). I mean, it's rock, paper, scissors on the iPhone, how complex can it get?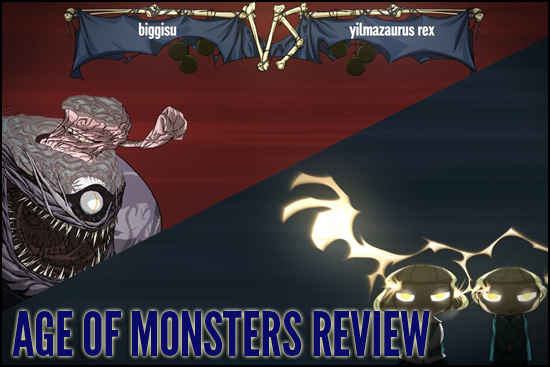 Well if you are a team who counts Jeff Matsuda (Emmy Award winning Producer and Creative Director of The Batman cartoon series) as one of your own, you'd throw in really cool graphics and character design, along with mutiplayer functionality and overlay these over an otherwise straightforward gameplay experience.
The word overkill is kind of like a prevailing theme with Age of Monsters – Rock Paper Scissors… I honestly do not know how would it benefit from the admittedly cool intro video or the variety of characters to choose from. The game seems to target the casual market but would that market make use of the multiplayer component?
Nine Over Ten 9/10 rates Age of Monsters – Rock Paper Scissors at a 3 out of 5, and I feel that with the level of production seen in this game, it would have been better for Massive Joe Studios to invest their energies in a game that's "bigger" or more "compelling". The talent is obviously there, so I can't wait to see what they are coming up with next.
Age of Monsters – Rock Paper Scissors is available for free on the iTunes App Store. Check it out over here: https://itunes.apple.com/us/app/age-monsters-rock-paper-scissors/id465231443?mt=8
Powered by

Sidelines
Previous Post Experience Grim Reaper's Mayhem in AirHead Adam (iPhone)
Next Post G5 Entertainment's Stand O'Food (iPhone) Goes Free For A Limited Time!