Tharle Games introduces Fly Smasher HD 1.0 for iPad – Free to Download
Just the other night I had to kill a bug that was flying around my room. It wasn't a fly, but instead one of those night bugs you can find flying around outdoors in any tropical country. Anyways, for some fly-swatting goodness without getting your hands dirty, check out Tharle Games' Fly Smasher HD 1.0 for the iPad, it's available for free! Read on for more details:
Bangalore, India – Tharle Games, one of the prominent and quality iPhone game providers for your iPhone, iPad and iPod touch, today is glad to announce the release of "Fly Smasher HD", a Free version for iPad. Fly Smasher is a fast-paced game that will leave users smashing and killing of the bugs which they hate most.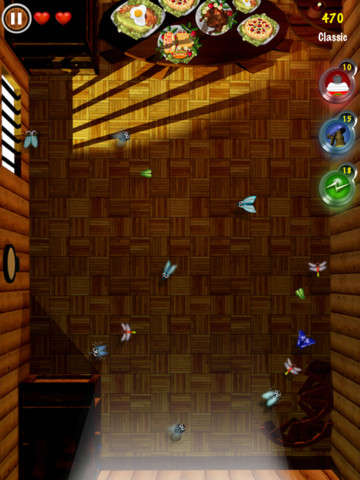 In the Fly Smasher HD game, your ultimate aim is to defend your food from the various flies that try to grab and fly away with it by smashing and killing them. You are provided with three lives in each game and you lose them one after the other as the flies finish your food. You ought to kill the flies as soon as possible to safeguard your food and life as well.
The game play involves two different types of characters namely Type A flies with the Type A flies being further classified into Small and Big flies and Type B flies. Smash the Type A flies to kill them but remember not to do the same with the Type B ones. These are not the only elements of the game as there are two types of sprays, Spray 1 and 2 to make your game play effective and to kill the flies in one attempt. Moreover, there are four different game modes namely: Classic, Extreme, Adventurous and Kids.
Coming to the game play, kill the small Type A flies by tapping on them once and the bigger ones by tapping twice. The game supports even multiple touches to kill the flies and you get 5 points for killing the former and 10 points for the latter. Don't kill the Type B flies even by mistake as you lose 20 points for that and sometimes your game might also end. The Spray 1 kills all the flies instantly while the Spray 2 slows their progress and kills them slowly. You will receive 100 bonus points when you kill 10 type A flies continuously.
Check out the game over here: https://itunes.apple.com/app/fly-smasher-hd/id471897622
Powered by

Sidelines
Previous Post Mage Gauntlet (iPhone) Game Review: Looks Amazing, Plays Even Better
Next Post Disney's Where's My Water? App Gets 20 New Levels in Latest Update