Sharpen Your Claws: Fruit Ninja Puss in Boots (iPhone) Game Review
The deadly feline with the Antonio Banderas-voice and saucer-like eyes from the Shrek movies, Puss in Boots, has an iOS game to call his own and it happens to be a tie-up between Dreamworks with the popular Fruit Ninja franchise from Halfbrick Studios. Called Fruit Ninja: Puss in Boots, the game brings about two game modes.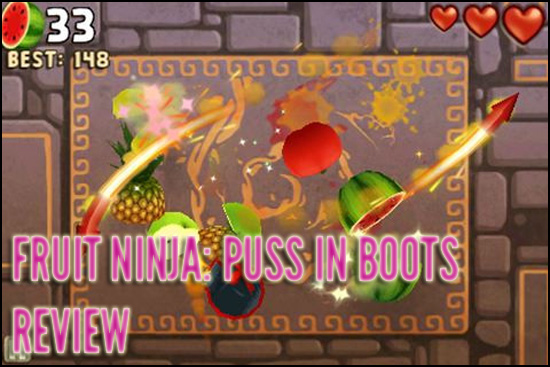 Fans of the original Fruit Ninja will be no strangers to the first mode, Desperado, which is an enhanced and re-mastered version of the Classic Fruit Ninja gameplay. Here, players slice and dice through waves of fruits while trying their best not to miss any of them and at the same time avoid slashing dynamite. The second mode, Bandito, is a brand new game mode unique to Fruit Ninja: PiB.
This mode is by far my most favourite part of the game. It takes players through a dozen levels consisting of various challenges and obstacles before culminating into a final level taking on (in my case) a giant pinata. Both modes yield a respectable number of achievements (both Game Center and Openfeint are featured in the game) and more importantly, players that do well are rewarded with stash.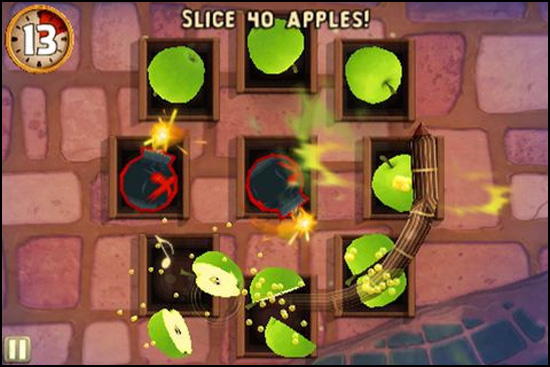 Stash in Fruit Ninja:PiB take the form of unlockables and this includes new backgrounds and blades for the feline to use. I spent a caffeinated night playing Fruit Ninja: Puss in Boots and this stuff never gets old, in fact for a while there I had to pry myself from playing Desperado in order to play the new Bandito game mode (and that turned out really good). The addition of the Bandito mode, IMHO, simply makes the perfect casual game complete. Nine Over Ten 9/10 rates Fruit Ninja: Puss in Boots a 4.5 out of 5. HIGHLY RECOMMENDED.
The game is available on the iTunes App Store for USD 0.99, check it out over here: https://itunes.apple.com/us/app/fruit-ninja-puss-in-boots/id469297662?mt=8. A review code was provided to Nine Over Ten 9/10 for the purpose of this review.
Powered by

Sidelines
Previous Post Bollywood Megastar Shah Rukh Khan Stars In New iOS Game RaOne: Genesis
Next Post Pirates of the Caribbean: Master of the Seas Released For iOS Devices