Tacky Goes To Camp Now Available on iOS Devices
Tacky and the rest of his fellow penguins are back on iOS devices with Oceanhouse Media's fourth Tacky the Penguin omBook (e-book) release for the platform titled Tacky Goes to Camp (introductory price: USD 1.99). The star of Helen Lester's children books, Tacky is a penguin that marches to his own tune.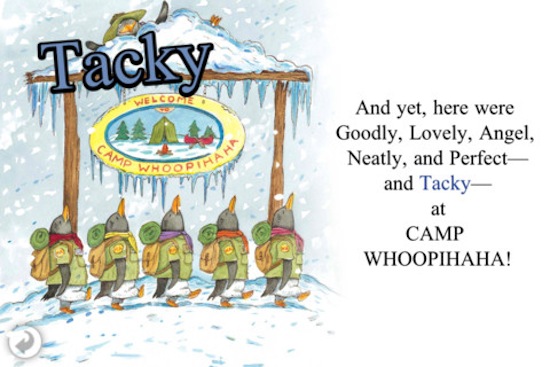 In Tacky Goes to Camp, Tacky and his fellow penguins are off to summer camp in Nice Icy Land to enjoy themselves while Rock Hopping, Line Dancing, and playing Capture the Ice Cube. One night, they gather around the campfire to sing, eat s'mores, and tell scary stories. But after going to bed, something straight out of one of their scary stories pays the sleeping penguins a visit. Goodly, Lovely, Angel, Neatly, and Perfect think they should high-tail it out of there, but Tacky has some ideas of his own.
New features only available in this interactive omBook include professional narration, background audio and enlarged artwork for each scene. To promote reading in young children, individual words are highlighted as the story is read and words zoom up when pictures are touched. By combining the original text and artwork with features that entertain and promote reading, this Book appeals to readers of all ages.
As with other Oceanhouse Media omBooks, there are several ways to read this omBook
"Read to Me" — listen to the narrated story with words highlighted as they are read
"Read it Myself" — read the book in its traditional form
"Auto Play" — plays like a movie, automatically reading and turning pages. Great for younger children!
Check out the new omBook right here: https://itunes.apple.com/app/tacky-goes-to-camp/id468540040?ign-mpt=uo%3D6&mt=8
Powered by

Sidelines
Previous Post Vintage Arcade Gameplay In The Palm Of Your Hands: Penny Parlor (iPhone) Game Review
Next Post Bollywood Megastar Shah Rukh Khan Stars In New iOS Game RaOne: Genesis