Vintage Arcade Gameplay In The Palm Of Your Hands: Penny Parlor (iPhone) Game Review
You know that magical feeling when you enter an arcade filled with different kinds of games? Well, how about entering one filled with vintage arcade (not necessarily of the video kind) games of yesteryear? I bet any arcade fan worth their salt would salivate at that opportunity. While such opportunities are really rare these days, the folks at Games Lab Apps decided to come up with a game that brings such an experience right onto an iPhone.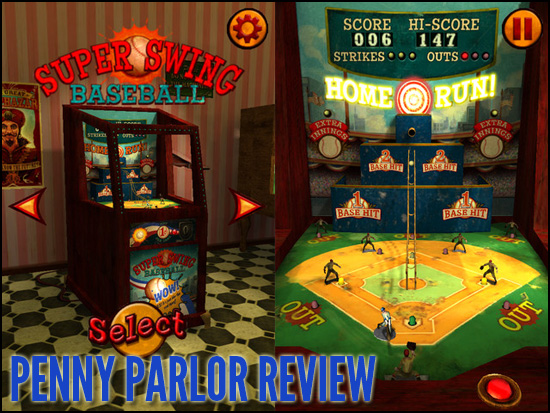 Entering Penny Parlor is like walking into a vintage arcade and this is beautifully realized with 3D graphics employed by the team at GLA. From here onwards, you get to choose from 4 authentic coin-operated games. Players can choose to flick touchdowns on America Pro Football, hit the button on cue for a home run in Super Swing Baseball, play some golf in The Amazing Golf Game or experience taking on the greatest bowler of all time in Smack 'n' Whack Cricket.
The fact that the game is actually a compilation of 4 games in one should be reason enough for anyone to purchase the game. But like real life arcades there's something in store for everyone. Competitive gamers can look forward to the list of achievements waiting to be unlocked (I would like to see some Game Center integration though :P), while casual gamers can look forward to the bite-size gameplay that any of these 4 arcade games have to offer.
Penny Parlor looks amazing and has plenty of value gameplay wise, Nine Over Ten 9/10 can't help but rate it at a 4.5 out of 5. Step right up folks, this one's a keeper. The game is available on the iTunes App Store for USD 1.99. Check it out over here: https://itunes.apple.com/us/app/penny-parlor/id465259587?mt=8. A review code was provided for the purpose of this review.
Powered by

Sidelines
Previous Post AppZapp Push/HD 3.7 Now Available Free of Charge for iPhone/iPad