Going On Top Of The Food Chain: Jaws Revenge (iPhone) Game Review
There's no doubt in my mind that Fuse's latest game on the iPhone is sure to leave me nightmares of the maritime kind, involving a certain kind of fish (it might just even put a stop to my habit of having sharks fin soup at Chinese wedding dinners). The aptly titled Jaws Revenge is a join-venture between Hothead Games and a licensing agreement with Universal Partnerships & Licensing, bringing about the all important IP from the Jaws movie, including the iconic theme song.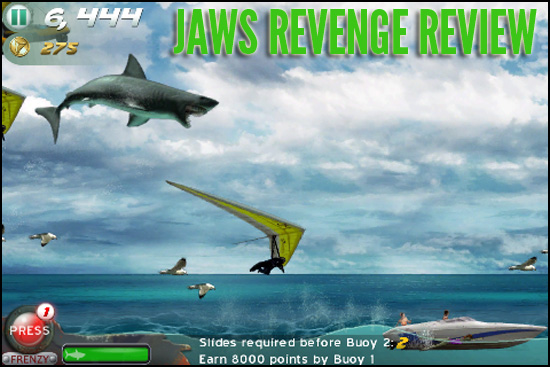 iOS gamers who have experienced games such as Super Mega Worm (a favourite of mine) and Death Worm would be immediately familiar with the concept behind Jaws Revenge: the beast is hungry and it's out to eat everything. The game does differ from the two games whereby there's little control over the shark's horizontal movement, it's always going forward. Tapping and holding on the screen will cause the shark to dive, releasing will cause it to jump instead.
This kind of one-touch gameplay makes the game very easy to pick up and play. The immediate appeal in Jaws Revenge is that you play as the shark, and to complement this, the developers have put in two game modes to suit the two most likely kind of players to play the game. Those that favour level progression can proceed with playing through 30 levels (with different sets of objectives) which are divided into 3 stages, the first one being Amity Island which is the setting of the 1975 classic.
Those who prefer to go on a rampage can go on the Free Swim mode, just to see how far can they go and what they gobble up. In either mode the shark has a health meter that is replenished by eating stuff. The levels are littered with Shark Tooth coins which when accumulated can be used to purchase certain upgrades for the shark.
The game looks great on the iPhone and the sight of the shark jumping out of the water is quite a spectacle, and the sound effects do well to complement the graphics. I'm guessing that the game will do well in bringing the old classic to an entirely new audience, but heaven forbid a remake of the movie :P. Nine Over Ten 9/10 rates Jaws Revenge at 4.5 out of 5. HIGHLY RECOMMENDED.
Jaws Revenge is available on the iTunes App Store for just USD 0.99. Check it out over here: https://itunes.apple.com/us/app/jaws-revenge/id456273368?mt=8. A review code was provided to Nine Over Ten 9/10 for the purpose of this review.
Powered by

Sidelines
Previous Post Share A Pic And Make Stand O'Food (iPhone) Go FREE!
Next Post AppZapp Push/HD 3.7 Now Available Free of Charge for iPhone/iPad