Burn The Rope: WORLDS (iPhone) Review: Keep On Burning!
With the number of iOS games on the iTunes App Store these days, and the fact that most are actually cookie-cutter versions of other established games, it's actually quite a chore to find something that's worth your time. Well, if you have a buck to spare, why not spend it on Burn The Rope: WORLDS, by Canada-based Big Blue Bubble Inc.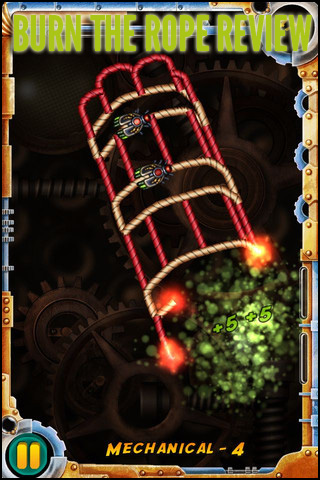 What impressed me about the game was how innovative the gameplay was (and how it appealed to certain pyromanic tendencies, LOL). The premise is pretty simple, you start fires on a rope puzzle, and the fires will always head "upwards", you'll need to constantly re-orient the iPhone in order for the flames (there can be multiple fires as the rope branches out), to keep on heading up.
Players are judged by how much of rope they managed to burn off and are awarded medals when they exceed the bare-minimum benchmark set on every level. Now, complicating matters are different coloured ropes, which will only burn when in contact with flames of the same colour. In order to do this, players will need to burn colourful bugs that populate some of these levels. Doing so will cause the flame's colour to change.
Burn The Rope: WORLDS features a 100 new levels divided into 4 different worlds. The game features several game modes, which include the Classic Burn The Rope gameplay, Endless Burn, Casual Mode and Endless Mode. The Puzzle Mode on the other hand features daily updated puzzles.
Nine Over Ten 9/10 rates Burn The Rope: Worlds a 4.5 out of 5, for being such a unique experience on the iPhone, I can't imagine one who would play this on an iPad, it would CRAZY (in a good way) . The app is available on the iTunes App Store for USD 0.99, check it out over here: https://itunes.apple.com/us/app/burn-the-rope-worlds/id449606608?mt=8
A review code was provided to Nine Over Ten 9/10 for the purpose of this review.
Powered by

Sidelines
Previous Post Steambirds: Survival (iPhone) Game Review: Turn-Based Dogfighting Mayhem!
Next Post Fling a Thing (iPhone) Review: Definitely A Thing of Substance