Steambirds: Survival (iPhone) Game Review: Turn-Based Dogfighting Mayhem!
What do you get when you mix turn-based gameplay and dogfighting? You get some really fun and crazy aerial combat in the form of Steambirds: Survival by Spry Fox and Halfbrick. Players get to play as an elite Allied pilot in an alternative, steampunk version of World War II and they'll be up against the Axis Armada, who are out to bomb the UK to oblivion.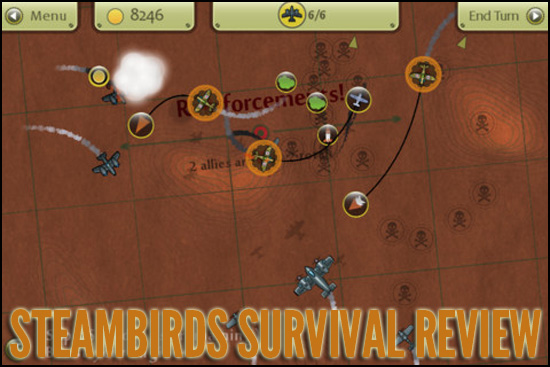 Interesting story aside, the bread and butter of the game are the turn-based controls. You can elect to move your plane, and your allies (if you have any) a certain distance before pressing on the end-turn button to see the game enact the moves along with the enemy planes'. The same goes with powerups and these can range from anything from a 180-degree turn to homing missiles to even extended range of movement.
The added bit of strategy to this whole mess of dogfighting is really cool, and I like the fact that I can direct my wingmen around and they also have access to power-ups. Downed enemy fighters yield power-ups or copper, which is the game's currency and this is used mainly to purchase wingmen (a.k.a. allies). The missions in Steambirds: Survival have a variety of objectives, from destroying a certain number of planes, to destroying certain TYPES of planes or simply surviving waves of planes.
Completing them mission objectives leaves you with an option to continue destroying enemy planes and to gain more copper! There's a total of 64 unique missions and 8 unique aircraft. The developer has promised an additional 7 aircraft and 56 missions in future updates. And to top it up, the game is available for free on the iTunes App Store! YARRGHHHHHH! (Get it now!)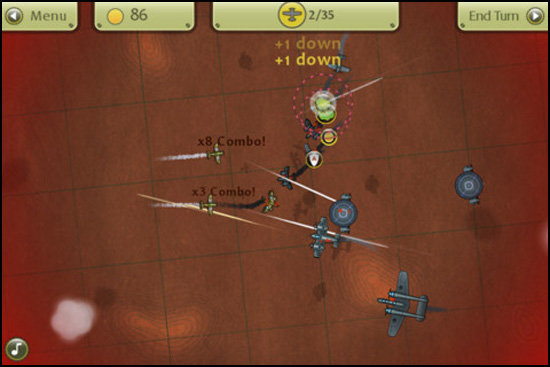 Nine Over Ten 9/10 rates Steambirds: Survival a 4.5 out of 5 for being such a great turn-based game in an inspired setting. HIGHLY RECOMMENDED. Check it out over here: https://itunes.apple.com/us/app/steambirds-survival/id441192740?mt=8.
Powered by

Sidelines
Previous Post Putrajaya Night Marathon 2011 Race Report
Next Post Burn The Rope: WORLDS (iPhone) Review: Keep On Burning!