Pocket God Update Brings New iOS 5 Features to iPhone Gaming
Popular iOS game Pocket God has been around for a while, and what's cool about this game (besides being really fun to play), is that the developers continue to support it and work in new features all the time. This time around, they bring in important content updates alongside iOS 5 related updates, namely iCloud support for syncing progress across devices and turn-based multiplayer gaming in the Battle of the Gods Arena. Check out the press release below for more details: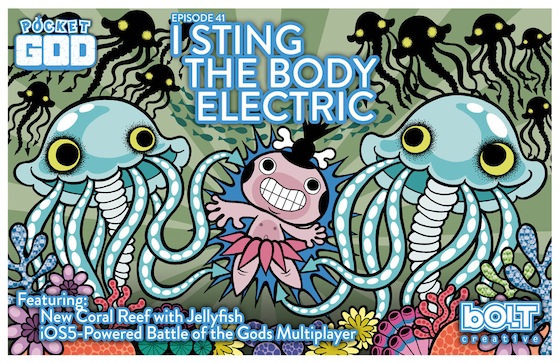 Gamers may want to start stockpiling vinegar as Pocket God announced today its newest jellyfish-filled content update for Episode 41, "I Sting the Body Electric," is now available for iPad, iPhone and iPod touch users. As part of this update, Pocket God also announces that Episode 41 now supports the latest features of iOS 5, including asynchronous turn-based gaming and iCloud storage.
The update introduces a beautiful new coral reef location on the ocean floor. Of course, it just so happens to also be infested with deadly jellyfish. Feed your pygmies to the electrified jellyfish or make a circle out of them to trap your pygmies in a fence of wet, squishy death. An "Underwater World" skin pack is also available through In-App Purchase, which lets players change the Pocket God island's iconic volcano into a whale, as well as change the island's boulder into a giant puffer fish.
Episode 41 capitalizes on the following iOS 5 features:
Asynchronous turn-based gaming – Players face off against friends and random opponents in the Battle of the Gods mini game introduced in Pocket God Episode 40: Battle of the Gods.
iCloud storage – When players unlock a new challenge or complete a level in the battle arena their progress is saved and is immediately accessible across all their iOS devices. Players can then pick up where they left of on any iOS device.
The Pocket God Episode 41 App, with "I Sting the Body Electric" update, is available for $.99 from the App Store on iPad, iPhone and iPod touch, or at www.itunes.com/appstore.
Powered by

Sidelines
Previous Post Indie Arcade Racer Ignite Is Coming This Fall!