Biscuit Visits the Pumpkin Patch Interactive Storybook Released For iOS Devices
I just got back from an 8-day holiday in Hong Kong, and it turns out that Halloween is a pretty big thing over there. The two main amusement parks, Ocean Park and Disneyland have Halloween events on certain days and I've been to the latter's. It was pretty awesome, with a couple of haunted house attractions and a Halloween parade.
A visit to the streets popular with the toy-buying crowd (such as the one in Wan Chai), and you'll find all kinds of Halloween related items, and the convenience stores such as Circle K and 7-11 stock Halloween collectibles like the Paul Frank Julius the Monkey doll which I got for my fiance. So it's no surprise when I got back only to find Halloween related apps in my inbox.
The first app to catch my eye isn't something that you normally associate with Halloween, it's a children's e-book from iStorytime along with HarperCollins Children's Books, titled Biscuit Visits the Pumpkin Patch. What's interesting is that the Biscuit print series has sold over 16mm copies and this marks the first time Biscuit has gone digital with complete cover-to-cover animations and sound effects for a more fun and interactive reader experience.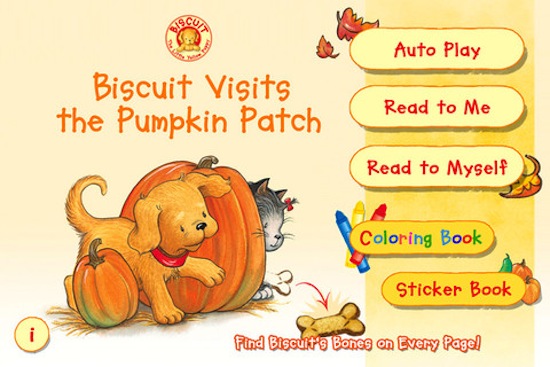 The well-loved retriever puppy is now available on Apple's iPad, iPhone and iPod touch. Developed in-house by iStoryTime and featuring illustrations by Pat Schories, the interactive Biscuit Visits the Pumpkin Patch digital storybook for iOS brings author Alyssa Satin Capucilli's wonderful and popular book to life. The book is about the little yellow puppy Biscuit, who discovers the pumpkin patch with his friend and the little red wagon. He has lots of fun, and gains his own experiences, and most importantly meets new friends.
"We are big fans of Biscuit and his little adventures and believe by including animations and fun coloring and sticker book activities we provide an immersive reading experience that gets children excited about reading," said Graham Farrar, Founder of zuuka and its publishing label iStoryTime. "HarperCollins Children's Books is a leader in the industry and we're extremely proud to be working with such a knowledgeable and innovative team."
Fun for the entire family, Biscuit Visits the Pumpkin Patch includes several interactive features.
Find-the-Bone: Throughout the digital storybook children and their parents are encouraged to find hidden bones for extra hide and seek fun.
Fully Animated: Biscuit, his friends and areas around him are animated when tapped. Discover funny animations and humorous sounds on every page.
Create-a-Scene: This digital sticker book allows little ones to use their imagination and create their own scene with Biscuit, his wagon and several other items.
Coloring Book: Little ones can choose three different scenes to color along with saving to the photo album to share with friends and family.
Narration Options: Auto Play, Read to Me and Read to Myself
Biscuit Visits the Pumpkin Patch is $2.99 USD (or equivalent amount in other currencies) and available worldwide exclusively through the Apple App Store in the Books category.
Powered by

Sidelines
Previous Post Temple Run (iPhone) Review
Next Post Powder Monkeys Sets Sails on iTunes App Store for ALL iOS Devices