Get On With Naval Warfare in Battle Group (iOS, Android, PC & Mac) This October 14th
Plenty of cool games are coming out for iOS and Android these days. We've got the late Steve Jobs to thank for the innovations he introduced in the mobile device space, otherwise we wouldn't be here today talking about Battle Group, a fast-paced naval warfare game hitting iOS, Android, PC and Mac on 14th October, 2011.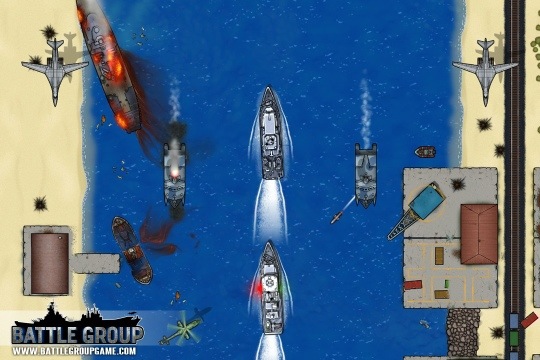 The game can be described as a unique blend of classic scrolling shooters like 1942, Missile Command's control scheme and Flight Control's panic-inducing visual scanning, all wrapped in the plot of a cheesy 80's action movie.
The game is the third release from Bane Games, a Brisbane, Australia, based team made up of experienced developers with credits at Pandemic, Auran and Fuzzy Eyes. Several of the team served in the Australian Navy and one is currently a member of the Australian Army Reserves.
So not only can the team make a game about battleships, they can actually sail them too. This is actually a first in any game I've previewed so far. LOL! Here's a bit more background on the game's story and features:
Battle Group casts players as Commander Kelly, the commanding officer of the Allied Nations' naval fleet. When a mysterious group of pirates start attacking shipping, the Allied Nations Secretary General sends Commander Kelly to investigate and deal with the problem. What seems like a minor disturbance soon turns out to be something much, much bigger, and perhaps also more complicated than it first seems.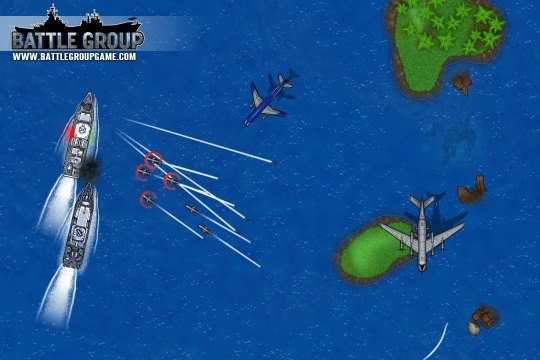 Players command a fleet of real-world, modern-day fighting ships. Viewed from a top down perspective, the ships move on a preset path and the player must direct advanced armaments to defend from incoming attacks and eliminate enemies. Weapons include anti-air missiles, large calibre naval guns and jump jet interceptors. With enemies approaching from all sides and via land,sea and air, Battle Group is a tense and frantic challenge, demanding constant visual scanning and rapid reactions to survive.
Powered by

Sidelines
Previous Post Jaws Revenge (iPhone) Released on App Store