Konami Releases Pro Evolution Soccer 2012 for iPad & iPhone
It seems that Konami beat EA to the punch by releasing Pro Evolution Soccer 2012 for iOS devices with FIFA 2012 no where in sight for the same platform. This time around, Konami is doing something different by releasing the game for free, with players having the option of unlocking the full game via an in-app purchase. Time will tell whether this approach works or not, but in the mean time, check out the press release below: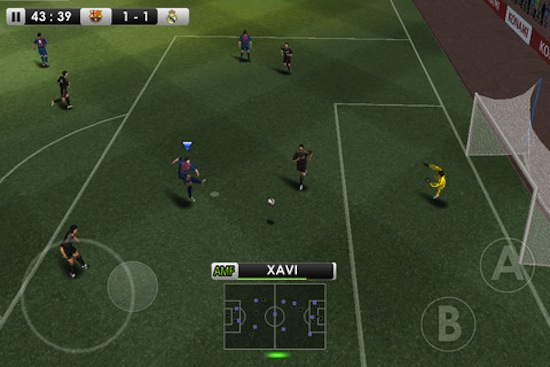 El Segundo, CA – Sept 30, 2011 – Konami Digital Entertainment announced today its Pro Evolution Soccer (PES) 2012 App for iPad, iPhone and iPod touch is now available on the App Store. PES 2012 enjoys a raft of additions specifically designed to make full use of the hardware.
Like its console counterparts, the game features truly realistic AI and all-new game modes. Leading the charge is the Super Challenge mode, which allows users to build a team of the world's best players, and lead them to victory. Players can then download similar teams created by friends from a cloud server and play against them – before posting the scores online via Facebook.
Players can move both on and off the ball, while goalkeepers have been enhanced to close down attacks, react acrobatically to tip shots past the post, and will come off their line to claim a loose ball. The individuality of players is also highlighted and the world's greatest stars are recognizable by their movements, ability and pace. Each player's behavior is governed by a wealth of stats, and this allows users to create scoring opportunities by exploiting the strengths of their chosen team.
The PES 2012 App offers an extensive choice of licensed teams, both national and club, and is also the only game to exclusively feature the UEFA Champions League™ and UEFA Europa League™ competitions. It also features fully licensed representations of Spain's Liga BBVA, France Ligue 1, and many others.
Thus, players can opt to play full seasons, compete in cup competitions, or play friends online via wi-fi or Bluetooth connections. Matches are further enhanced with full commentaries, and the game also includes mini-games where players can opt for a Quick Play match or practice shooting skills via the brand new Free Kick Challenge.
The Pro Evolution Soccer 2012 App is available for free from the App Store for iPad, iPhone or iPod touch or at www.itunes.com/appstore. Additional downloadable content is available for $5.99 through In-App Purchase.
Powered by

Sidelines
Previous Post Rickonami Releases New Contra Tribute Video
Next Post Adidas King of the Road Malaysia 2011 (Race Report)