Mobile Gamers Want In On Guinness World Records? Play Mega Jump!
Woah, the Guinness World Records, the global authority on record breaking achievements, and Kiip, the first mobile rewards network to offer real rewards for virtual achievements, are partnering up to give mobile gamers the ultimate reward: an opportunity to earn an official Guinness World Record.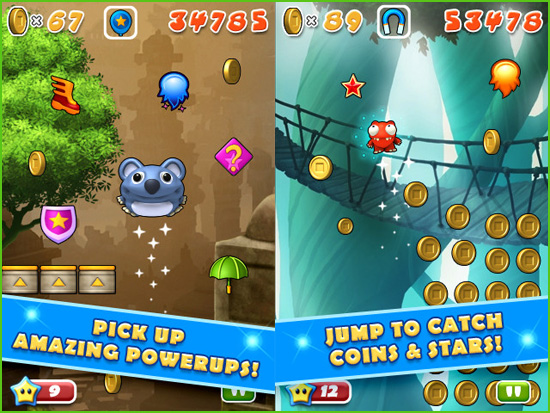 To celebrate this partnership, mobile game players who download 'Mega Jump' by Get Set Games, the epic jumping game downloaded over 16 million times worldwide, will earn a chance to get their names in the record books by competing for the 'The Highest Score Achieved on Mega Jump' during a 5-day long competition running September 28th through October 3rd.
Users can simply download the Mega Jump app to their iPhones and aim to get the highest score they possibly can, while other users will simultaneously be battling them for Guinness World Record glory.  Game players will then submit and register their score, and see how they stack up against the world's best Mega Jumpers.
Scores will be viewable publicly on the official Kiip Leaderboard at https://www.kiip.me/gwr to see how contestants match up against each other. The highest score accumulated during the competition will be recognized as the new Guinness World Records® titleholder for the 'Highest Score Achieved on Mega Jump.'
The winner will not only get their name in the next Guinness World Records® 2012 Gamers Edition (published in January 2012), but will also receive their own exclusive, personalized certificate officially recognizing their feat. The final winner will be announced at the culmination of the competition.
This competition kicks off an ongoing network integration that will see players of every Kiip-enabled game being potentially eligible to become a Guinness World Record holder in future editions of the digital and print publications.
"We're always looking for ways to make achievements special and rewarding in a very real way, but also to be able to truly recognize these amazing daily feats. With this partnership, we can finally say that we're able to provide the ultimate recognition. Our network of games and apps will be able to share this recognition with these players for the first time ever. Starting today, I'm excited to announce that all current and future partners will have this opportunity", says Brian Wong, Founder & CEO of Kiip.
Samantha Fay, SVP Sales & Marketing, Guinness World Records, stated, "Mobile gaming is exploding, and with Kiip we're able to plug into this growing community to keep track of all of these amazing achievements. With the huge success of the Guinness World Records® Gamer's Edition since its inception, we think that a very natural evolution into mobile gaming records will require partners that can not only scale with this industry quickly, but that also hold a unique value proposition to the game player. Kiip is not only able to see millions of these achievements per day, but rewards them with something real. We can't wait to bring this much-deserved recognition to these users."
Powered by

Sidelines
Previous Post Resource Gathering Meets Tower Defense in Tiny Defense (iPhone) Game Review
Next Post Books That Should Be Made Into MMORPGs: Watership Down