Resource Gathering Meets Tower Defense in Tiny Defense (iPhone) Game Review
I've been playing quite a number of Tower Defense games this week on the iPhone, and two of them were 2D, side scrolling ones. The first game, Defen-G Astro was pretty epic (review here), with plenty of towers to choose from. The second game, Tiny Defense, is somewhat similar, but does it offer up enough features to differentiate itself from the competition? I'm happy to say most definitely.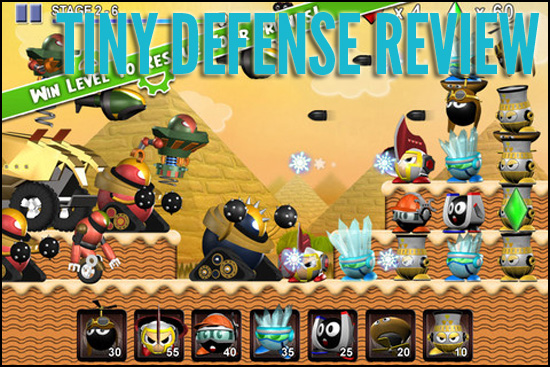 The game has players building an army of robots to defend against an invading army of…robots. OK, so much for the storyline, but key to the player's success is actually a something that is a common staple in RTS games, resource gathering. At the start of the level, you'll need to build robots that generate energy crystals. In turn, these crystals are used to build other robots, which are then placed on a grid.
Like many other casual games (Angry Birds comes to mind), players are rated using stars on each level, depending on how well they fared. If you want to get perfect 3-star ratings, here's one tip, don't let any enemy unit through.
Tiny Defense boast 40 cute robot types to choose from, and from what I know after playing the game, it involves some trial and error to get the right mix of robots to handle the opposition in each level. You do get a glimpse of the enemy robots at the very start of a level, but after that, the screen is focused on your units, waiting for the enemy to arrive.
What I found interesting was the inclusion of mini games in between the tower-defense oriented levels, and while they are pretty short, they tend to be exciting little distractions. The game has a bright 2D palette which is reminiscent of games from the 16-bit era, with 3D units, and this carries across 150 levels! To top it up, Tiny Defense comes complete with Game Center achievements.
Picsoft Co. has a bona fide hit here in a very competitive genre, and Nine Over Ten 9/10 awards Tiny Defense with a 4.5 out of 5. HIGHLY RECOMMENDED. The game is available on the iTunes App Store for USD 0.99, check it out over here: https://itunes.apple.com/us/app/tiny-defense/id453447822?mt=8
A review code was provided to Nine Over Ten 9/10 for the purpose of this review.
Powered by

Sidelines
Previous Post Steambirds: Survival Soars Onto iOS Devices Next Month
Next Post Mobile Gamers Want In On Guinness World Records? Play Mega Jump!