Satisfying High Score Junkies With iSquares! (iPhone) Game Review
I decided to do things a little different this evening for my games review session, slipping in the TRON soundtrack into my CD player and hooking it up to a pair of Grado cans that I bought last month. After 10 minutes of playing Radler Designs latest iPhone game, iSquares!, I realized that I didn't need the extra dramatic stimulus from the soundtrack pumping in my ears, the game itself featured tension-filled, but addictive gameplay.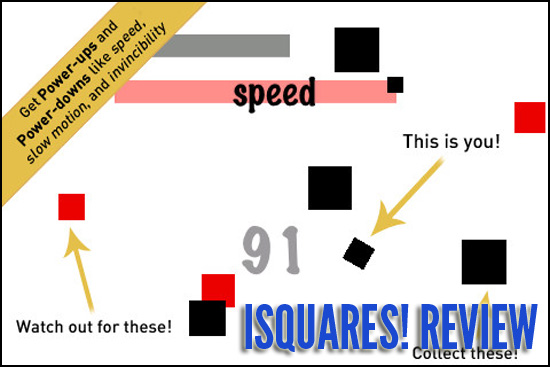 For starters, iSquares kinda reminded me of Digidrive (I know, it's Jason and his Digidrive comparison for the umpteenth time) for the GameBoy Advance, in terms of the art style and the frantic gameplay it offers. Players take control of a spinning square, moving it around to collect black square that are zooming about horizontally and vertically on the screen. Power-ups are represented by black circles that are also moving around and afford the players anything from 2X multipliers to invincibility.
Invincibility from what? Red squares can be found moving around the screen as well and without the invincibility power-up, it's a one-hit-game-over kind of deal when you bump your spinning square against them. Don't let the simple 2D graphics fool you, this provides the core part of the iSquares experience, moving your black square around to collect as many black squares as possible, and with your finger blocking part of the screen, it's almost certain that you'll hit a red square despite your best efforts.
Trust me, this is actually addictive as you'll try your very best in the next attempt to better your score. The Game Center online leaderboard adds a competitive edge to things as you'll be comparing scores with other players from around the world. One thing I regretted when I was playing the game was that the game's techno soundtrack was actually quite good, you don't need stuff like the TRON Legacy soundtrack as an accompaniment.
Nine Over Ten 9/10 rates iSquares at a 4.5 out of 5, for simply (literally) being such a great and innovative casual game. The game is available on the iTunes App Store for USD 0.99. Check it out over here: https://itunes.apple.com/us/app/isquares!/id447549980?mt=8. A review code was provided to Nine Over Ten 9/10 for the purpose of this review.
Powered by

Sidelines
Previous Post App of the Week: Mechanical Clock 3D (iPhone)
Next Post Steambirds: Survival Soars Onto iOS Devices Next Month