Nasi Lemak 2.0 Movie Review
I managed to catch Nasi Lemak 2.0 in the cinema last weekend. Word on the street was the movie is receiving rave reviews and it was difficult to get a seat. Anyways, the fiance managed to score 2 tickets and off we went to watch Namewee's (the director/lead actor) latest movie.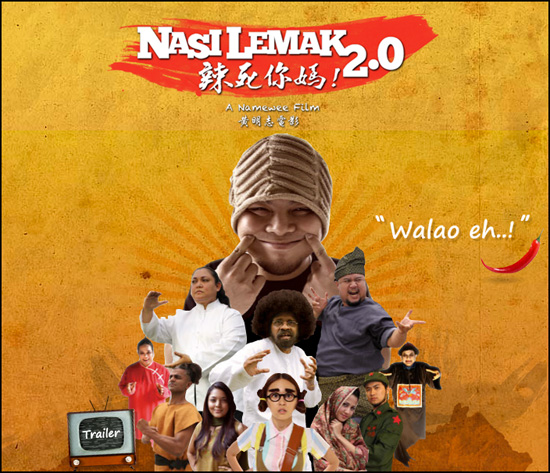 He shares screen time with Karen Kong, a local singer and a host of other Malaysian celebrities. The plot is a comedic one, with Namewee playing a Malaysian, albeit racist chef, educated abroad, who when down on the dumps, has to learn to cook the ubiquitous Malaysian dish known as Nasi Lemak.
In a way, the movie is a play on how Malaysian Chinese look upon members of other races in Malaysia's melting pot of cultures, and it was actually quite funny to watch how all these stereotypes play out on screen. Oddly though, aside from my fiance and I, and a few other people who were howling with laughter, the rest of the audience seem to be unable to catch the jokes on screen.
Perhaps being Malaysian Chinese they couldn't take such an interesting way to point out just how coloured our views can get. I guess some people really do need to lighten up a bit.
Nasi Lemak 2.0 gets a 4 out of 5. The ending was a little weak though, could have thrown in the outtakes during the credits to spice up an otherwise quiet (and silent) credits roll.
Powered by

Sidelines
Previous Post Playing With Words: Word Crank Elite (iPhone) Game Review
Next Post Defen-G Astro (iPhone) Game Review: 2D Side-Scrolling Tower Defense!