Playing With Words: Word Crank Elite (iPhone) Game Review
In order to be good at word games like Scrabble or its online derivative Words with Friends, players will need constant practice, and one of it would be to play more other word games. One of the games that I highly recommend is Word Crank Elite. This game combines Tetris style gameplay with that of Scrabble's word-forming gameplay to create one heck of an amalgamation.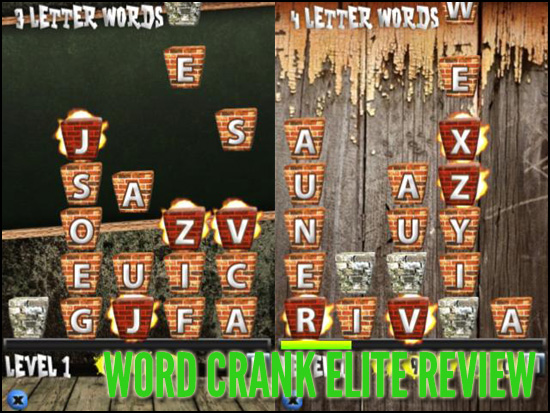 In each level, blocks of words drop down from the top of the screen and players are required to create words out of them based on the level's requirements in order to avoid the blocks from piling up. Each word formed provides points to the players and certain letters will explode, bringing down an entire vertical row of letters (you should really aim for this kind of bonus letters)
Players start off with 3-letter levels before going on to forming 4-letter and 5-letter words in later levels. Some of you will find the later levels to be a real challenge but I consider them to be more of training to be better at words games. I do wish however that the developer would introduce 6 and 7 letter levels, but I guess this would be really taxing on players.
No matter, as mentioned in the first paragraph, Word Crank Elite comes highly recommended and is awarded a 4.5 out of 5 from Nineoverten.com.
The game is available on the App Store for USD 1.99. Check it out over here: https://itunes.apple.com/us/app/word-crank-elite/id458786452?mt=8. Full disclosure: A review code was provided to Nine Over Ten 9/10 for the purpose of this review.
Powered by

Sidelines
Previous Post Disney Debuts Original Character For Mobile Games With Swampy in Where's My Water
Next Post Nasi Lemak 2.0 Movie Review