Tesla Wars (iPhone) Game Review: Delivering Electrifying Gameplay
Back when I was a kid, Westwood Studios' Command & Conquer: Red Alert had me in awe. I was playing the popular RTS game day and night. The Soviet's defensive structure known as the Tesla Coil was kick-ass and the first time I encountered it, I learned the hard way that it was a good way to send infantry and land vehicles to their doom, as it dished out lightning bolts of energy across a considerable distance.
Needless to say, the Tesla Coil gets my vote if there's an award for best defensive structure in a strategy game. Having said that, the guys over at Synaptic Wave came up with a Tower Defense title for the iPhone, called Tesla Wars, featuring what else but a Tesla tower right smack in the middle of the screen. Players are supposed to used this to protect a wall that runs through the middle of the screen against waves of stick-men enemies.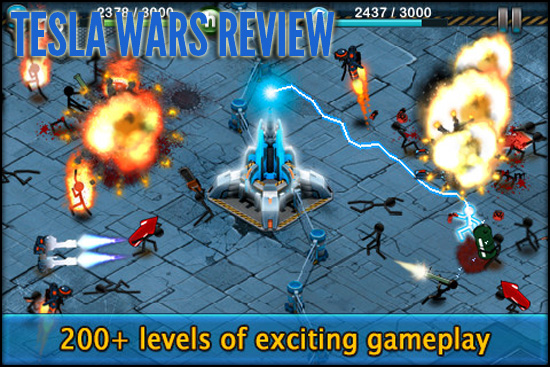 It may sound easy, but these stick-men are not your grandfather's doodles in an old school exercise book. Some of them come equipped with chainsaws, machine guns, bazookas, and even rockets. You get to zap them with some electricity by just tapping on them. As the levels progress, these enemy units become harder to take down, and this is when you should seriously consider the upgrades.
Players are awarded virtual cash at the completion of each level, and this money can be used to repair the Tower, refill the energy bar (shooting bolts of lightning drains energy which recharges slowly over time), increase the amount of energy or health that the Tower has, increase the damage dealt by the Tesla Tower, among other things. Not only that, players get to purchase "Specials" as well, that will certainly help them out in a pinch.
Tesla Wars comes with both Game Center and OpenFeint achievements, and the new update brings about new enemy units, Grasshopper, Steel Hornet, Scorpion and Mad Mantis. The game comes with plenty of levels, more than what you would expect for its…wait for it….USD 0.00 (a.k.a FREE) price tag. Tesla Wars starts slow but the levels gradually become case studies in frantic finger tapping and how that will save your in-game life. This game is out to give you a rush!
Nine Over Ten 9/10 rates Tesla Wars at a 4.5 out of 5. VERY IMPRESSIVE. Check out the game over at the iTunes App Store: https://itunes.apple.com/app/tesla-wars/id368972957?mt=8
Powered by

Sidelines
Previous Post Newly Released Monster Warrior Does A New Take On Fruit Ninja (iPhone)
Next Post Indie Games Company Appy Entertainment Reveals Record Numbers, You've Got To Read This