Newly Released Monster Warrior Does A New Take On Fruit Ninja (iPhone)
Someone asked me a pretty damning question today: "Why would you want to slash delicious, nutritious fruit? What did it ever do, besides provide crucial Vitamin C?" This is obviously directed to the global phenomenon that is Fruit Ninja, and how do we remedy this? Well, take the Fruit Ninja formula, throw out the fruit and have them replaced fury monsters, and you get "Monster Warrior" for iOS devices. Check out the press release below for more details: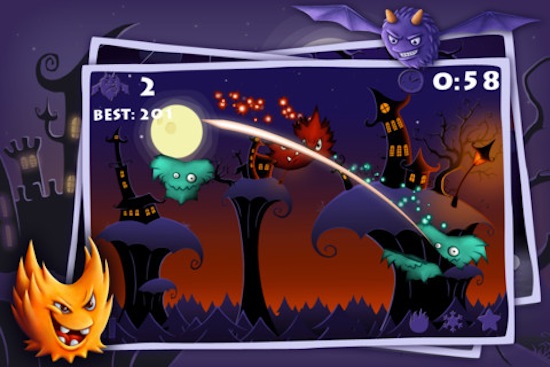 Monsters are on the loose and unsuspecting bunnies are their prime targets for torment! Do you have what it takes to guide the bunnies to safety out of reach of the evil witch and her monster minions? Monster Warrior is now available for iPhone® iPod touch® and iPad from Sparkin' Apps LTD, the masterminds behind Spearfishing PRO and Spearfishing 3D. If you've got what it takes to free the bunnies from despair, you'll be rewarded as a true warrior.
With addicting gameplay, featuring slicing wretched monsters and gruesome baddies, Monster Warrior will test your might, as well as reaction time. Precision slashing and swiping is in high demand to protect the hapless bunnies as they are constantly in harm's way. One false slash and it could mean curtains for the bunnies with evil reigning supreme. Can you navigate through the haunted castle, spooky villages and darkest marshes to save the bunnies?
Each gameplay session provides a unique experience with rewarding scoring after each game with point modifiers, combos, monster slays and rabbit rescues. Enhanced by its eerie soundtrack, gamers will be chilled to the core from the point of download until well past the Witching Hour and Halloween. Featuring supernatural particle effects and detailed 3D graphics, Monster Warrior provides an experience unlike any currently offered on iOS devices.
Monster Warrior will make a real warrior out of you with its many features including:
4 modes (Arcade, Freestyle, Survival, Task)
Stylish and exciting 3D graphics, visual effects and animation
Funny, stylish soundtrack and sound effects
Game Center support including Leader Boards and 15 achievements
Social media integration – Gain a bonus monster from posting your top score to Facebook
Retina display support
Family friendly gameplay featuring a fun slashing mechanic
Monster Warrior is available for the iPhone and iPod Touch for $.99. Monster Warrior HD is available for the iPad for $1.99. An Android version is currently under development and will be released soon. For more information about Monster Warrior, visit the App Store, or slash your way to the official website.
Powered by

Sidelines
Previous Post New Western-Themed FPS "Legendary Outlaw" Set To Be Released for iPhone/iPad
Next Post Tesla Wars (iPhone) Game Review: Delivering Electrifying Gameplay