Pudding Puzzle 2 (iPhone) Game Review: Fun and Cute!
The Green Games' latest iPhone game, Pudding Puzzle 2 (also known as Pudding Invader 2) is one of those really cute games that manage to come up with solid casual gameplay which can be easily used to pass the time. I don't know why, but the game's protagonist kinda reminds me of the cute Tofu collectible toys. However, don't be fooled by the cute facade as the gameplay is a bit of a sadistic blend of genres.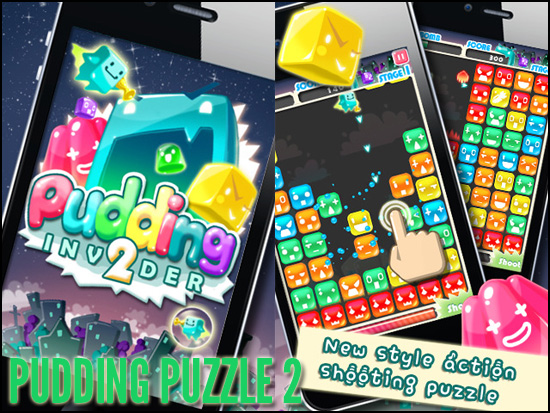 The game plays a little like Tetris, meaning that like-coloured blocks of pudding are destroyed when grouped together. However, the manner in which they are destroyed in differed from that of Alexey Pajitnov's creation. Not content with sliding blocks into place, Pudding Invader 2 requires players to fly the protagonist around shooting at the rows of blocks at the bottom of the screen.
Here's where the sadistic part comes into play, whereby the game takes the role of a platformer. Not only does the player need to shoot the blocks, he'll need to avoid the blocks that are falling down. Shooting the blocks down to the very last row will result in flames SHOOTING UP (since there are no blocks holding the flames down), and you'll need to avoid them too!
Getting hit by falling blocks or rising flames will result in your remaining time being cut, and once it's empty, it's game over. Yup, the game is all-round crazy and surprisingly, it works! To spice things up a little, the developers throw in some power-ups, none of which are terribly interesting, but there's one that allows you to blow up blocks a little easier, which is sometimes not a very good idea. LOL.
OpenFeint achievements and online leader boards are provided in the Pudding Puzzle 2, but I still prefer seeing Game Center in a game, but this does not detract from the enjoyment provided by Pudding Puzzle 2. The colorful 2D graphics complement the fun gameplay provided by the game. Nine Over Ten 9/10 rates Pudding Puzzle 2 at a 4 out of 5. HIGHLY RECOMMENDED.
Pudding Puzzle 2 is available now on the iTunes App Store for just USD 0.99. Check it out over here: https://itunes.apple.com/us/app/puzzle-puzzle-2/id455142603. A review code was provided to Nine Over Ten 9/10 for the purpose of this review.
Powered by

Sidelines
Previous Post GAMEVIL Debuts New Action RPG Title "DESTINIA" on iTunes App Store
Next Post Exit Games Unveils Photon 3 – The Network Engine for AAA Studios and Indies