T.N.K III (PS Mini) Review
What I learned a couple of days ago was that a year before Ralf Jones (a.k.a Paul) was kicking ass in SNK's Ikari Warriors, he was the main character of an earlier SNK arcade title, T.N.K III. Players are tasked with destroying a weapon on an island, and to do so, will need to eliminate enemy troops and tanks with extreme prejudice, and they get to do that in a tank.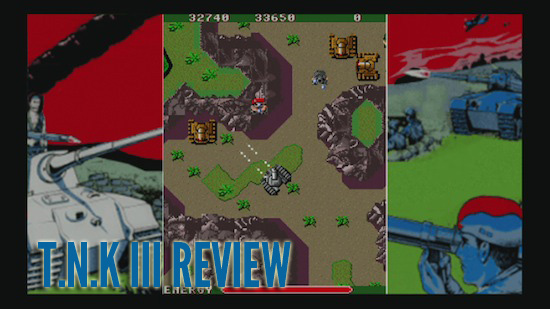 Each hit from enemy units will cause the tank's energy bar to drain and thankfully there are power-ups to replenish the energy bar. Other power-ups provide bonuses to weapons and there's one that takes away every other power-up, making not taking it a no-brainer. There are 12 different levels to go through in the game and you'll definitely need them power-ups.
The  game features an interesting control scheme whereby a switch will cause the tank turret to rotate in notches, allowing the tank to move independently and aim at a separate direction at the same time. While I do not have a problem with the turret control (I find it rather cute actually, archaic as it sounds in the previous sentence), the tank's movement controls translates rather poorly in the PS Mini port of the game.
My advice would be to ditch the analog stick in favour of the direction pad, but then again do not expect it to work as well as an arcade joystick. To me, the control scheme made the game a little of a pain in the ass but what's not to love when faced with classic arcade gameplay. Like every other SNK ports to the PS3, players are given a little more extra when it comes to saves, cheats and even configuration and networked multiplayer capabilities.
Nine Over Ten 9/10 rates T.N.K III at a 4 out of 5. The game is available on the PSN Store at a price of USD 2.99. A review code was provided to Nine Over Ten 9/10 for the purpose of this review.
Powered by

Sidelines
Previous Post William Fotheringham: Cyclopedia Book Review
Next Post Defend Your Own Dungeon: Tiny Heroes Invades iOS Devices