Tapsteroids (iOS) Game Review: Frantic Asteroids Shmup!
The title of UNAgames' latest iPhone game, Tapsteroids, kinda tells you what kind of game it is. It's a play of words between the word Tap (which is the gameplay method) and Asteroids (stuff that you are supposed to tap on) or it can be short form for "Tapping, on Steroids", which perfectly describes the frantic gameplay Tapsteroids has to offer.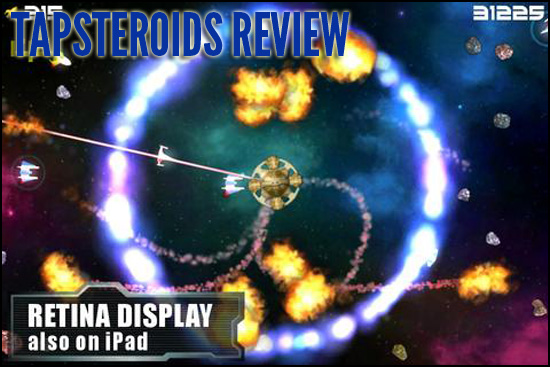 The game is a throwback to retro games, combining both gameplay elements from Asteroids and Missile Command. It puts players in charge of protecting space ships from asteroids. This is done by launching missiles from the space station located on the centre of the screen to destroy waves of asteroids. Aside from missiles, there are 3 other weapons available, including nukes, but so far I've stuck with missiles as they provide pint-point accuracy and are relatively fast.
Each level has a quota of ships docking onto the space station to be fulfilled. Gameplay gets pretty frantic as the asteroids threaten the ships and each destroyed ship will result in the loss of one life out of 5 given to the player. The number of lives are carried forward to subsequent levels so it's important to be alert. Some asteroids even split into two smaller ones. I guess the game supports multi-touch as I could fire off plenty of missiles in quick succession when things got really hairy.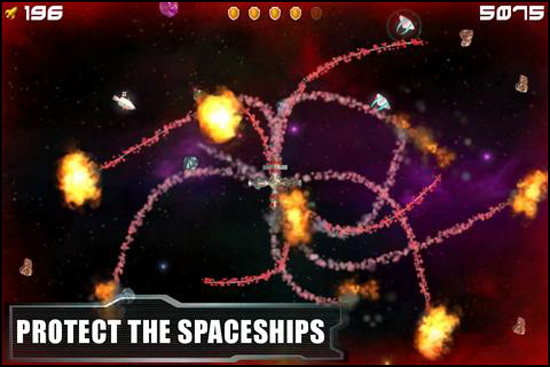 My only grip about the game that it is sometimes cumbersome to switch weapons as it forces a pause on the frantic gameplay. In any case, Tapsteroids provides over 20 Game Center achievements for the intrepid achievement hunter, and the star attractions to this game are the simple controls, crazy gameplay and the really cool looking 2D graphics. Nine Over Ten 9/10 rates Tapsteroids at a 4 out of 5. HIGHLY RECOMMENDED.
Tapsteroids is available on the iTunes App Store for just USD 0.99. Check it out over here: https://itunes.apple.com/us/app/tapsteroids/id453097220?mt=8. A review code was provided to Nine Over Ten 9/10 for the purpose of this review.
Powered by

Sidelines
Previous Post Solar Walk (iOS) Review: Pocket Guide to the Solar System
Next Post Check Out Berzerk Studio's Upcoming Game Delivery Man (iOS)