Giant Apes Spotted Throwing Bananas in Gorillas – Reinvented for iPhone
DOS-era throwback, Gorillas, has received a new leash of life as an iPhone remake. Gamers young and old can now experience the incredibly entertaining and ultra- addictive gameplay of the classic physics-based game Gorillas for iPhone, with gorgeous graphics, enhanced animation, game field zooming, new game modes and individual or multiplayer gameplay bringing retro gaming into the 21st Century.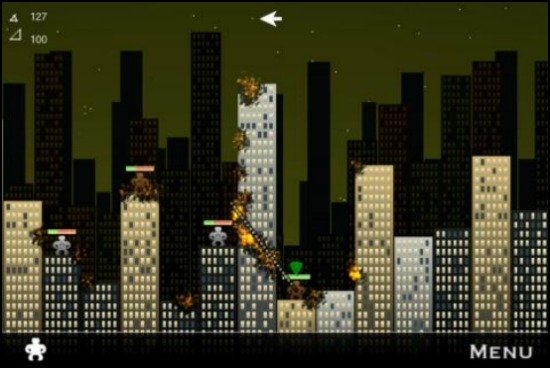 Created by Lyndir, the Gorillas remake contains the same addictive gameplay and competitive multiplayer action that ensured the original DOS game spawned a new genre of projectile physics games. High resolution graphics, weather effects, explosions, dynamic zooming, new game modes and world themes provide a slick, easy-to-use and modern presentation whether competing with the in-game AI or multiplayer and team modes.
"Gorillas for iPhone has been created to capture the acclaimed addictiveness and suspense of the original, coated with all the goodness and enhancements that iOS can offer." commented creator Maarten Bilemont. "New game modes such as Last Man Standing, Dynamic, Team and Classic ensure gameplay longevity, whilst Game Center support offers the challenge to play against other users anywhere in the world."
Easy to pick up and play, Gorillas the retro physics-based iPhone game, has already gained several 5 star ratings. It offers gamers an immediately rewarding experience plus a long term challenge and considerable repeat play appeal. Additional features include configurable or dynamically adjusted difficulty, retro audio remixes, slow motion kill shot replays, optional vibration and high resolution artwork for iPhone 4 and iPad in 2x mode. Check it out over here: https://itunes.apple.com/app/lyndir/id302275459
Powered by

Sidelines
Previous Post App Of The Week: Model UN (iOS) World Factbook in the Palm Of Your Hands
Next Post Solar Walk (iOS) Review: Pocket Guide to the Solar System