Pezzini Games' His Adventure (iOS) Hits The App Store
Some pretty interesting stuff got released yesterday on the iTunes App Store, and one of them was UK-based Pezzini Games' puzzle adventure game, His Adventure 1.1.3 for the iPhone and iPod touch. His Adventure combines an adorable art style with addictive gameplay and fun game mechanics. Players take control of a platform to help him get home through over 70 exciting levels.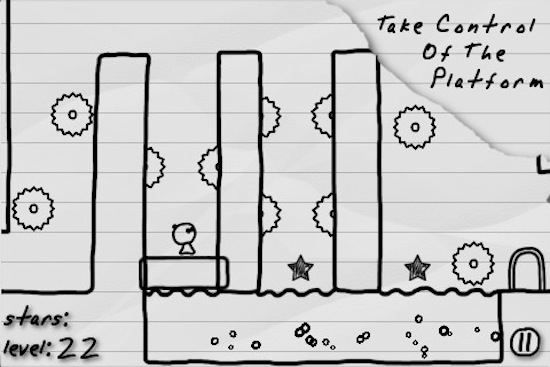 With 216 challenging stars to collect and 4 beautifully designed worlds, His Adventure is packed with hours of content. Let the His Adventure begin! His Adventure combines a adorable hand drawn style with accurate and precise touch controls that anyone can pick up and play. This exciting new puzzle adventure has a cute design and an exciting new game mechanic.
Players take control of a platform with their finger and must help guide him though each level. The task is not that simple, they must be sure he avoids the moving saws and obstacles whilst collecting the three stars in each level. They're going to have to use their finger precision to get them all though- some of these stars don't hang round forever!
The challenge doesn't stop there! With Game Center leader boards players can also compete against friends to collect more stars than each other.
Easy to learn and so much fun to play, His Adventure is hard to put down. Packed with 4 worlds with new game mechanics, challenging stars to acquire and obstacles to avoid. From hitting switches to being plummeted into the darkness, with over 70 levels and 216 stars to collect, His Adventure is packed with hours of addictive game play.
Check out the game over here: https://itunes.apple.com/us/app/his-adventure/id448738557?mt=8
Powered by

Sidelines
Previous Post Final Destination 5 Movie Review
Next Post Clay Hunt (iOS) Updated To Version 2.0, New Game Mode and Game Center Support