Final Destination 5 Movie Review
The Final Destination movies have always been formulaic. If you haven't noticed it already, it goes like some fella gets a premonition that something bad is going to happen, and somehow barely manages to avert the tragedy, but as you "can't cheat DEATH", fella and his companions will one by one die horrifically.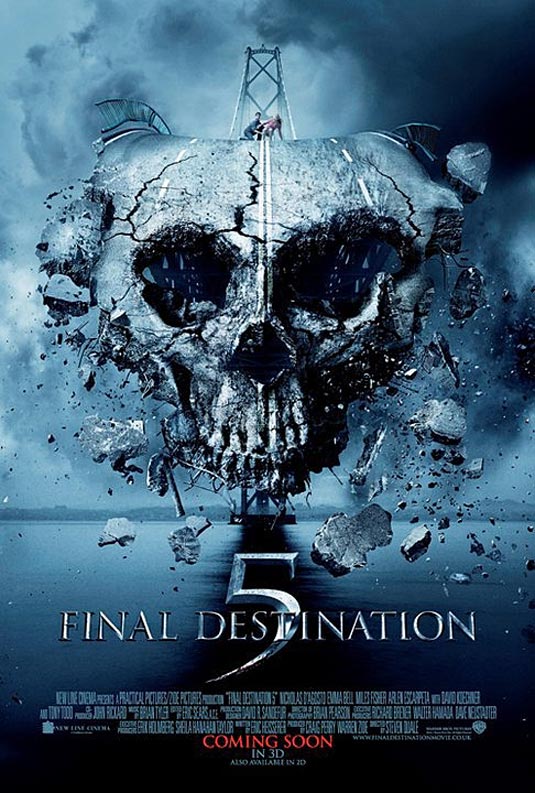 This same formula is in effect in the latest movie of the series, Final Destination 5. I guess that the audience is in it for how these new bunch of characters die and in video game terms, the deaths are like finishing moves rather than outright insta-kills. There are plenty of red herrings and distractions, but somehow the deaths tend to be comical AND horrific at the same time.
Perhaps in 5, the series is branching out into the horror-comedy genre instead of just plain horror. In any case, there's very little invested to the characters, but there's one standout, Miles Fisher, who plays a character not unlike a younger, more intense Tom Cruise, but albeit taller. He's almost a shoe-in for future Mission Impossible movies.
Nine Over Ten 9/10 rates Final Destination 5, a 3.5 out of 5. The movie is a rather short one at an hour and 30 minutes, and yup, no kids allowed.
Powered by

Sidelines
Previous Post Minimalist, Middle Ground and Sandbox Schools of Thought
Next Post Pezzini Games' His Adventure (iOS) Hits The App Store