Shock Troopers (PS3) NEOGEO Station Review
Consoles were pretty hard to come by back during the day from where I came from, so in order to build up a some sort of retro gaming knowledge repository, I frequently read Retro Gamer magazine, a publication originating from the UK. At one time, I was into buying old 2nd hand consoles like the SNES, which in hindsight, wasn't such a good idea.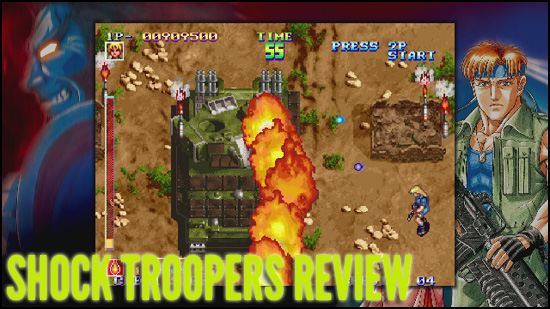 Thankfully companies like SNK Playmore which are bringing their old titles back to modern consoles, giving a chance for players like me to experience yesteryear nostalgia and fun. The service provided by SNK Playmore is called NEOGEO Station and brings high quality PS3 and PSP ports of NEOGEO titles from the 1990s, some of which never seen by the western world.
These titles feature several modern day innovations. Players can save their progression using the Save State function and the NEOGEO Memory Card is recreated by the NEOGEO Station emulator. The most interesting part is the Network Mode, which allows players to play against or cooperatively against other players.
I've just finished trying out two NEOGEO Station games this evening. The first one is Saurus' Shock Troopers, and that's the game we're gonna talk about today. Originally released in 1997, it looks to be inspired by games such as Ikari Warriors, but the key difference being the former is a 8-way shooter, and has a lot of versatility in terms of how levels are portrayed. It goes without saying also that the game looks way better as well.
Players have a choice of playing as a single character or in charge of a team which allows players to shuffle between 3 different commandos (out of a pool of 8). The game itself is pretty violent, with plenty of blood when enemy characters are taken out by the myriad of firepower options available. Ever faced-off a fighter jet in a boss fight only to come away with it by using grenades? You got it here in Shock Troopers.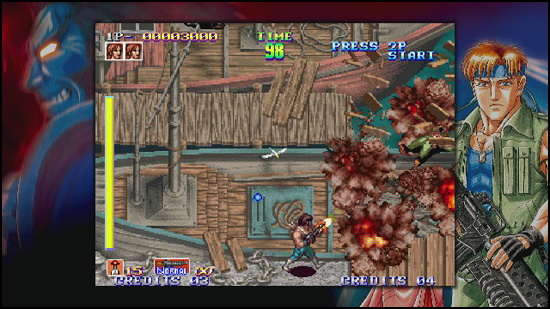 One grip that I do have about Shock Troopers are the controls. It's pretty hard to get my guys to shoot or move in a particular direction, especially the NE/SE/SW/NW points, and the game has a hard time deciding whether a gesture on the analog stick is to move the character or change the direction in which he/she is shooting. Often it opts for the former, and I get my ass kicked. LOL.
In any case, Shock Troopers is a pretty cool arcade romp. There are 6 rather expansive levels to go through, and like I've mentioned earlier, the variety in level design makes the game interesting. Nine Over Ten 9/10 rates Shock Troopers at a 4 out of 5. Shock Troopers is available on the PSN Store for the PS3 (USD 8.99) and PSP (USD 6.99).
Powered by

Sidelines
Previous Post Villain Launches New Single Player iOS FPS in Minions
Next Post Frogger Goes 3D on iOS Device With New Frogger Decades Game