Villain Launches New Single Player iOS FPS in Minions
Villain, the creator of the hit MMOFPS Archetype for iOS devices has come up with a new lighthearted single-player FPS called Minions starring cute but rebellious minions who have turned against the evil scientist that created them and are now trying to overthrow them. From the screenshots, the game looks like a mobile version of…Portal.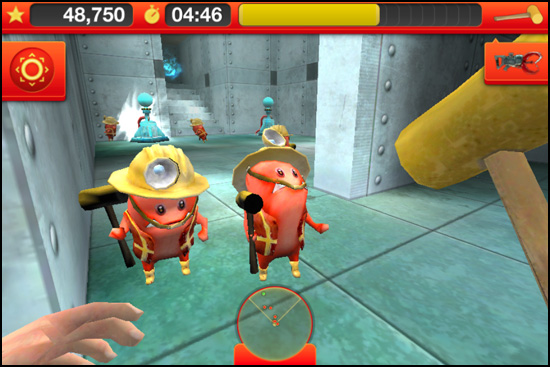 In the game, players unleash their all-purpose Electro-gun, melee Hammer, Sound Wave blaster, and powerful Bird Launcher to mow down villainously cute minions through eight action-packed FPS levels. As they clear levels of enemy minions and their spawning stations, players will grow in power and earn Game Center achievements. Designed to provide pick up and play first person shooter fun, Minions features three classes of twisted little minions for players to battle.
"Minions is all about having massive fun vanquishing tiny hordes of cute adversaries," said Dane Baker, CEO of Villain. "It's packed with wall to wall cartoony mayhem that players of all ages can enjoy and master, and we think its single player, offline focus nicely complements the online experience we offer with Archetype."
Spawn points located through each level create new minions—players must take out the spawn stations and eliminate all the minions to clear each level as quickly as they can to earn the best ratings for both points and time. Players can earn achievements and perfect three-star ratings as they build their Speed, Stamina, and Power attributes and unlock harder difficulties. Additional features include the ability to track minions via radar and a weapon toggle button to choose the right tool for the task at hand.
If gamers get in a tough spot, they can use a blast of minion mind control to get breathing room. Small, fast Melee minions swarm players with mallets, Sound Wave minions blast gamers with their powerful short-range sonic weapon, and the big, slow Bird Launcher minions fire explosive birds. Players must take them all out to become the master of Minions.
Check out Minions over here: https://www.villainhq.com/minions-2
Powered by

Sidelines
Previous Post Destructopus: Total Rampage (iOS) Free Today for Long Weekend