New Legendary Wars (iOS) Update Will Bring New Game Modes, New Units
Just received news that Liv Games' Legendary Wars crossed the 1 million download mark last week (check out the review here), and the guys are working on a huge update that's packing EVERYTHING the fans have been asking for. Here are the release notes for version 1.5 and the updates should be available soon: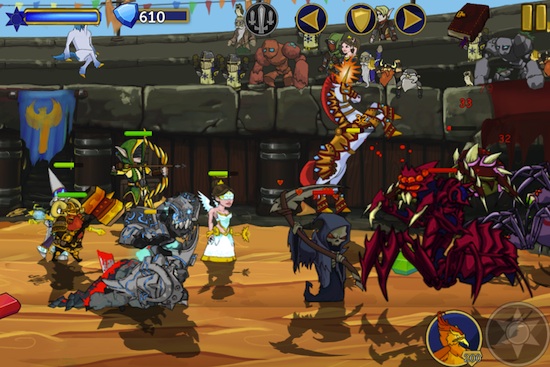 New Arena mode, pit your heroes against new monsters and challenges. (Players can only summon each hero once and instead of mining players collect gems from fallen monsters).
The Arena Leaderboard.
New healer unit joins the fight which will obtain power to charm and mind control. (Players can take direct control of enemy monsters).
New Spider Queen, Abominable Snowbeast, and Imp monsters.
New Spell Book with 5 upgradable magic spells with dazzling full screen special effects.
New Monster Difficulty for those hardcore fans who beat Legendary
New Miner upgrade allows players to start with Gems so you can recruit heroes right away
Powered by

Sidelines
Previous Post Fruit Ninja Kinect DLC Pack "Storm Season" Live!
Next Post New Call of Cthulhu: The Wasted Land (iOS) Screenshots