Fruit Ninja Kinect DLC Pack "Storm Season" Live!
Australian indie game developer Halfbrick has announced today the release of the all-new Fruit Ninja Kinect (Xbox 360) DLC Pack "Storm Season". This simple, precise motion-controlled gameplay has proved to be a huge hit for Halfbrick, with 100,000 sales of the game on Xbox LIVE® Arcade within the first week of its release on August 10.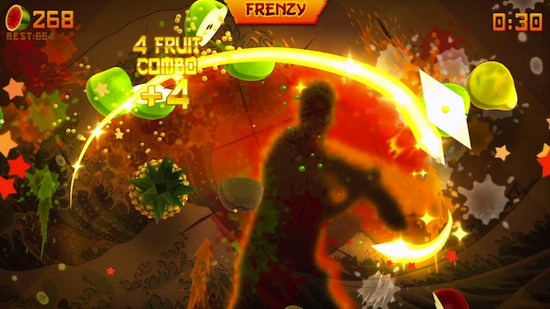 The Fruit Ninja Kinect "Storm Season" DLC will feature all new content, including "The Storm Castle" background, "The Rain Man Shadow" player silhouette and the almighty "Lightening Bolt Blade." With three new Achievements for a total of 50 Gamerscore points, players can unleash their inner Zeus as they thunderbolt fruit from the heavens.
'Storm Season' is now available for download for 160 Microsoft Points ($2). Fruit Ninja Kinect is rated "E for Everyone" by the Entertainment Software Rating Board (ESRB) and is now available for download through Xbox LIVE Arcade for 800 MSP ($10) for the Xbox 360® video game and entertainment system with Kinect™. All new items will be immediately available in the Sensei Swag menu upon download.
For more information about Halfbrick and Fruit Ninja Kinect, visit: https://www.halfbrick.com. To download Fruit Ninja Kinect via Xbox LIVE Marketplace, visit: https://marketplace.xbox.com/en-US/Product/Fruit-Ninja-Kinect/66acd000-77fe-1000-9115-d80258410b79.
Powered by

Sidelines
Previous Post SplitApple (iPhone) Game Review: Something Different, Something AWESOME!
Next Post New Legendary Wars (iOS) Update Will Bring New Game Modes, New Units