Oceanhouse Media Release Dr Seuss' There's a Wocket in My Pocket for iOS and Android
Oceanhouse Media has just released a new Dr Seuss digital book, or omBook (Oceanhouse Media digital book), for iOS and Android devices. Titled There's a Wocket in My Pocket!, it is a delightful funny look inside a young boy's house, which he shares with many unusual creatures.
"I like the ZABLE on the TABLE.
And the GHAIR under the CHAIR.
But that BOFA
on the SOFA . . .
Well, I wish he wasn't there."
Young readers will enjoy this rhyming story — with a zlock behind the clock, nupboards in the cupboards and a nink in the sink — all along learning words to many household items. In this omBook, words zoom up and are spoken when pictures are touched and individual words are highlighted as the story is read. In addition, pages pan and zoom to accentuate the beautiful original art of Dr. Seuss.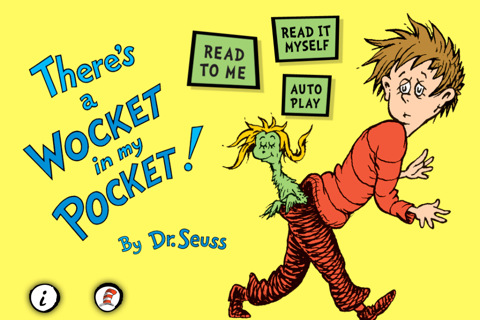 New features only available in this omBook include professional narration, background audio and enlarged artwork for each scene.  To promote reading in young children, individual words are highlighted as the story is read and words zoom up when pictures are touched. By combining the original text and artwork of Dr. Seuss with features that entertain and promote reading, this omBook appeals to readers of all ages.
The omBook is available for an introductory price of USD 2.99. Click here to check it out on the iTunes App Store, and here for Android Market.
Powered by

Sidelines
Previous Post Vetasoft Releases Whack-A-Monkey Game For Free with Monkey Land (iPhone)
Next Post UTV Ignition Games Releases New Screens for Fall Lineup of Games