Vetasoft Releases Whack-A-Monkey Game For Free with Monkey Land (iPhone)
Belgium-based indie game developers, Vetasoft, has launched today their evolved take on the classic Whack-A-Mole mobile game called Monkey Land, and with that they have included multi-touch support. Players will need to use that feature to take on 45 polished and colourful levels that include no less than 9 bosses.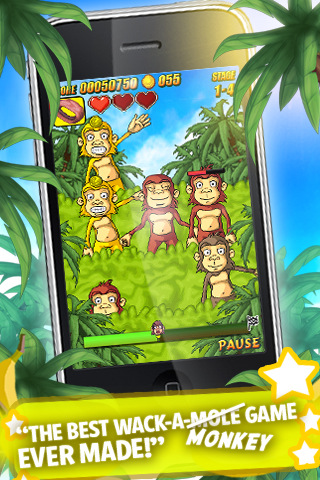 The backstory of the game has Mokoko the giant monkey receiving a letter from his beloved master. He must defeat the vampire monkey Dr. Apula and retrieve all the stolen bananas! Players must touch and dodge as many monkeys as possible to pass the levels. Players can also buy items to increase Mokoko's power.
"Take a Whack-A-Mole and add new elements of gameplay, upgrades, many levels, numerous enemies, monkeys, bosses, gold, ninjas, vampires and mini-games to unlock and you will get the funny and addictive Monkey Land. You will stay stuck for a while!" says Adriano Baglio from Vetasoft.
There are two mini-games to unlock and hardcore players can expect their best scores to be uploaded to Game Center. Monkey Land for the iPhone is available for FREE on the iTunes App Store. Check it out over here: https://itunes.apple.com/us/app/monkey-land/id454976927?l=fr&ls=1&mt=8
Powered by

Sidelines
Previous Post SotA – Stele of the Ancients (iPhone) Game Review: Everything In and Maybe The Kitchen Sink
Next Post Oceanhouse Media Release Dr Seuss' There's a Wocket in My Pocket for iOS and Android