SotA – Stele of the Ancients (iPhone) Game Review: Everything In and Maybe The Kitchen Sink
Stele – (pronounced /ˈstiːliː/, older /ˈstiːl/, from Greek: στήλη stēlē; plural: στήλες stēlēz also found: Latinised singular stela and Latinized plural stelae /ˈstiːlaɪ/) is a stone or wooden slab, generally taller than it is wide, erected for funerals or commemorative purposes, most usually decorated with the names and titles of the deceased or living — inscribed, carved in relief (bas-relief, sunken-relief, high-relief, and so forth), or painted onto the slab.
I went looking for the word in Wikipedia after the guys over at Erawppa Co. Ltd sent in their game SotA – Stele of the Ancients for review at Nineoverten.com. Interesting name, and one that I find quite apt based on the gameplay and style found in the game. In a nutshelf, players move the steles around the board in a game of match-four (instead of the typical match-3).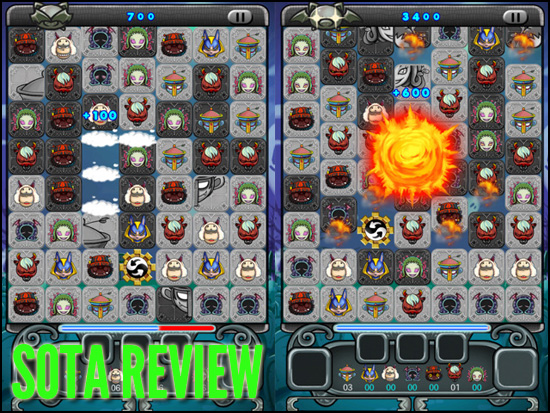 But before you go "Ah, not another match-x game", the guys at Erawppa put in quite a number of gameplay mechanics into the game, which for better or for worse (it's really subjective, some purists would prefer pure match-x gameplay like Bejeweled, while people like me are game for anything), will have an effect on your gameplay experience.
First up, you are not restricted to moving pieces just so they fit into a match-4 combination. This makes it easier for players to strategize and move pieces closer to a huge match-4+ collective. The game also does not restrict match-4 combinations to just vertical and horizontal lines. The third mechanic is probably the most controversial.
Steles are divided into two colours, one with a grey background colour, and the other with a black background colour. Different coloured Steles cannot swap places with each other, although there's a special yin/yang block that can help "rotate" positions between black and grey Steles. And then there's the part where you match up certain Steles to summon the particular spirit, for a bonus.
I've seen match-x games that overload on mechanics, such as Bad Apples: Battle Harvest, to the point I couldn't get around reviewing them, but I don't feel the same way about SotA. I think Erawppa is doing a fine balancing act between providing enjoyable, innovative and challenging match-x gameplay and throwing the kitchen sink at players and I do feel that SotA is pretty damn good and deserves to be in any match-x game fan's library.
Nine Over Ten 9/10 rates SotA at a 4.5 out of 5. HIGHLY RECOMMENDED. The game is available on the iTunes App Store for USD 0.99. Check it out over here: https://itunes.apple.com/us/app/sota-stele-of-the-ancients/id451343706?mt=8. A review code was provided to Nine Over Ten 9/10 for the purpose of this review.
Powered by

Sidelines
Previous Post Super Laser: The Alien Fighter (iPhone) Review: Impressive Modern Day Sci-Fi Shmup
Next Post Vetasoft Releases Whack-A-Monkey Game For Free with Monkey Land (iPhone)