Super Dynamite Fishing (iOS) Review: Redneck Dynamite Awesomeness
Hmm…there's something very fishy about Nine Over Ten 9/10, in that two out of three games that I've been reviewing lately feature fish in a large way. LOL. In the case of HandyGames' Super Dynamite Fishing, it appeals to that deep, dark recesses of our mind (when it comes to gaming) that we do not talk much about, and that's blowing stuff up with dynamite. Having said that, this game is one of the most fun and satisfying gaming experiences I've ever had this year on an iOS device.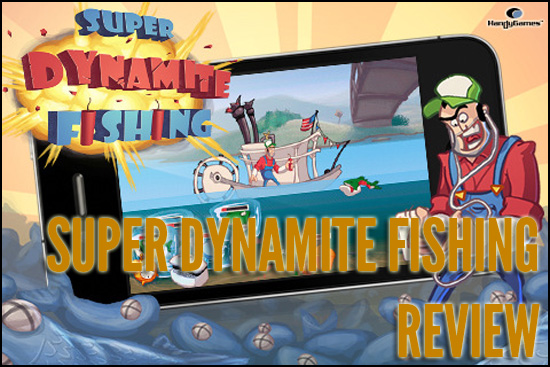 Don't let the stupid looking app logo fool you, Super Dynamite Fishing ain't just about tossing dynamite off the side of a boat with the hopes of landing big catches of fish, the game is unabashedly REDNECK. With judicious use of dynamite the objective here is to catch enough fish to pay off our dear redneck fisherman's daily bills.
Different kinds of fish are worth different amounts of money and there are several location in the game whereby players can go about fishing. These locations also hold side missions with objectives such as blowing up and catching a particularly rare fish, shoot down a number of birds, etc etc with the prize of completion being money as well. Just as long as you get the moolah in before the game day ends (there's a real time clock when you are out fishing), you would be fine.
Along the way, the hard earned cash can be used to also to purchase additional weapons and to upgrade to different kinds of vessels. The latter is important as the type of vessel you own determines how much fish you can carry (the more the better), the number of weapons and miscellaneous equipment you can carry  and of course the better (and more expensive) the ship , the faster it moves as compared to the previous jalopy you had.
Money can also be spent on certain diversions, like your character's equally redneck girlfriend. One of the game's achievements is awarded to the player when you manage to get her hand in marriage, and this can be achieved by plying her with gifts courtesy of your hard-earned cash. This is a bit close to real-life here folks, IMHO.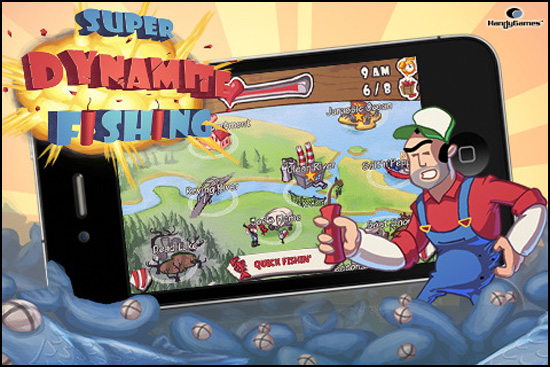 Gameplay-wise, it's best not to let the redneck-ness fool you, there's a certain amount of strategy needed when it comes to playing Super Dynamite Fishing. Ammunition can be purchased but it is a finite resource at the store. Once it's exhausted for the day you won't be able to restock until the next day. If you were to finish off your shotgun rounds in the morning, your subsequent sessions throughout the day will see the lack of anti-air support…resulting in those pesky birds making off with your catch.
The same thing goes with dynamite and fortunately for us, there are different varieties of these things that go boom. The use of the big ones might be overkill but its better than nothing when you've exhausted your supply of smaller bombs. Super Dynamite Fishing comes with a friendly message not to do dynamite fishing in real-life and instead play the game, which I wholeheartedly agree, and enjoy.
Nine Over Ten 9/10 rates Super Dynamite Fishing at a 4.5 out of 5. HIGHLY RECOMMENDED. Super Dynamite Fishing is available on the iTunes App Store for just USD 0.99. Check it out over here: https://itunes.apple.com/us/app/super-dynamite-fishing/id440664640?mt=8. A review code was provided to Nine Over Ten 9/10 for the purpose of this review.
Powered by

Sidelines
Previous Post Indie Game Developer Interview: Gamenauts with Founder Stanley Adrianus and the Whole Radical Fishing/Ninja Fishing Issue
Next Post Machine Gun Jetpack (iOS) Dev Diary 2 – On The Move Video